7 most luxurious first class airport lounges
User role is=
Array
(
    [0] => editor
)

The number of flight delays increased by over 100% year-on-year across Europe. The International Air Transport Association (IATA) expects that the number of global delays will remain the same or grow in 2019. A number of Asian airports struggle to meet the growing demand for flights, which also results in more delays. As a way of passing the time, airline passengers often find themselves in need of a comfortable and safe place to sit and relax.
As a result, airports and airlines are competing to make their airport lounges as relaxing and luxurious as possible. Smart Lemur has created a list of the most luxurious first-class airport lounges around the world.
British Airways Concorde Room, London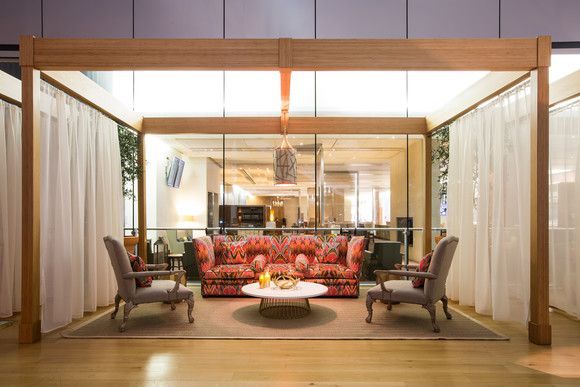 The London Heathrow lounge has recently undergone a complete transformation and is inspired by contemporary British design. The lounge's standout feature is its private cabins which include day beds and en-suite bathrooms. Free 15 minute relaxation and detox treatments are provided by the Elemis SPA. The lounge offers private dining booths with full waiter service, wine, champagne pairings and an à la carte menu designed by Executive Head Chefs, Frank Coughlin and Errol Figueroa. There is also a business centre with desktop computers and free-to-use smartphone chargers for business travellers.
Swiss Air First Class Lounge, Zurich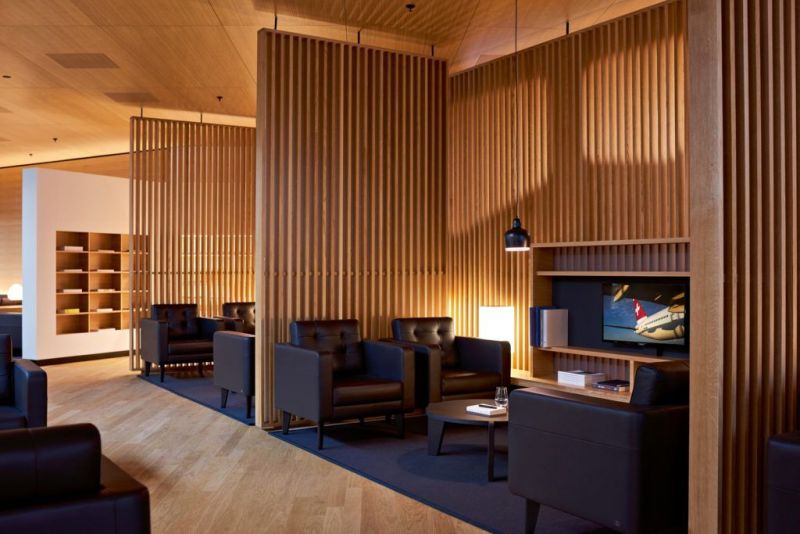 Zurich airport's Senator Lounge is characterised by its oak parquet floor, limestone walls, as well as an interior penned by local Swiss designers. The lounge is home to over 120 whiskeys from around the world, as well as a bar with over 1,000 combined types of wine and champagne. The Senator Lounge has its two hotel rooms with real beds, private bathrooms, and panoramic views of the Swiss Alps. There is also a secondary bar where guests can enjoy world-class coffees and over 100 Swiss grappas and fruit brandies.
Cathay Pacific, The Pier, Hong Kong
Cathay Pacific's First Class lounge is characterised by its signature teahouse, which is home to a vast selection of fresh leaf teas from around the globe. Its onsite SPA facility offers passengers a range of relaxing massages and treatments designed for regular travellers. Asian and international influences are showcased in the lounge's 100-capacity restaurant menu, which offers seasonal à la carte cuisine, while its bar is home to an extensive cocktail list.
Air France La Premiere Lounge, Paris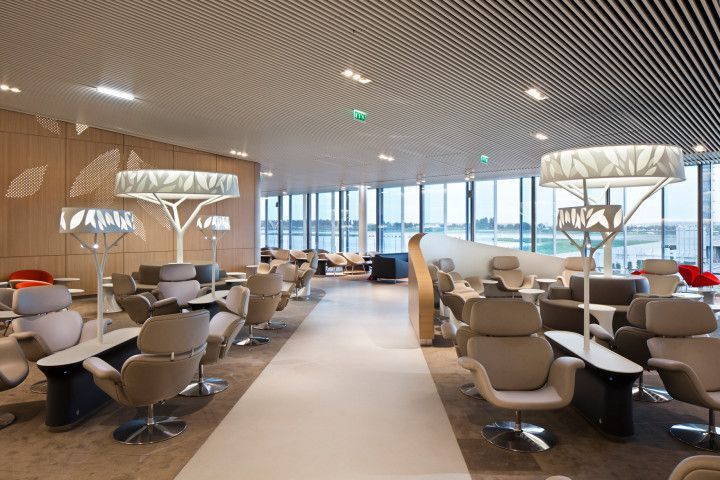 The highlight of La Premiere Lounge is its restaurant, where visitors can choose from a list of wines and fine dining options from its menu designed by triple Michelin star-awarded chef, Alain Ducasse. In the Biologique Recherche centre, guests are able to enjoy a free 30-minute SPA session, which includes facial and body treatments. Following their time in La Premiere, guests are taken to their boarding gates via a private car.
Emirates First Class Lounge, Dubai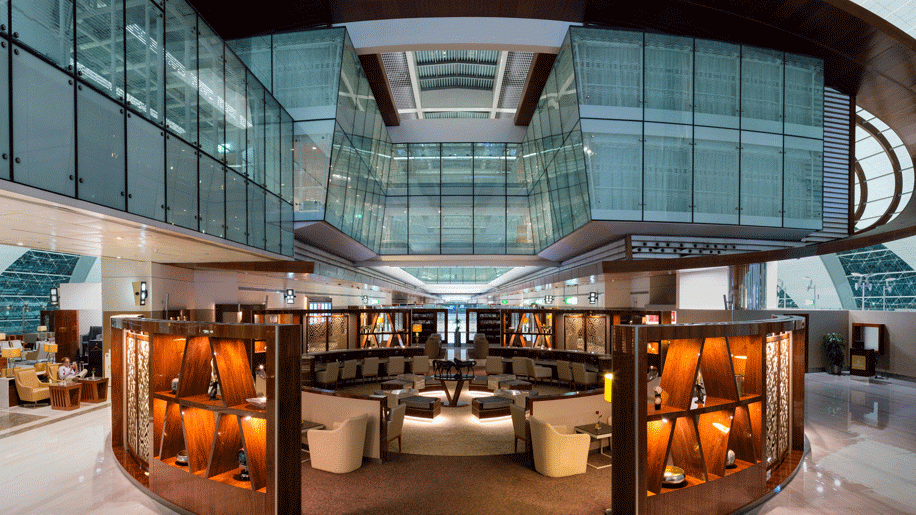 The biggest first-class lounge on the planet can seat almost 600 people – all of whom are entitled to complimentary spa treatments and direct access to their aircraft's boarding gates. Guests are also offered comfortable day beds with pillows and blankets. A luxurious restaurant, business centre, wine cellar, as well as a dedicated duty-free shopping area, a children's club, quiet areas, showers, and a private cigar lounge are also on hand.
Qatar Airways Al Safwa Lounge, Doha
Qatar Airways call their First Class lounge at Doha Airport 'an oasis of luxury' and one would find it very difficult to disagree. The lounge features a 250 seater restaurant serving international and Arabic a la carte cuisine and a selection of premium drinks, all freshly prepared and made with local ingredients. The Vitality Spa with nine private rooms, jacuzzi and relaxation room offers visitors muscle treatment packages guaranteed to put one in the best possible state before a long flight. An impressive list of features plus a full business centre, cinema room and exclusive family area complimented by Emirates world-class hospitality and service all combine to offer guests an experience like no other.
Qantas First Class Lounge, Sydney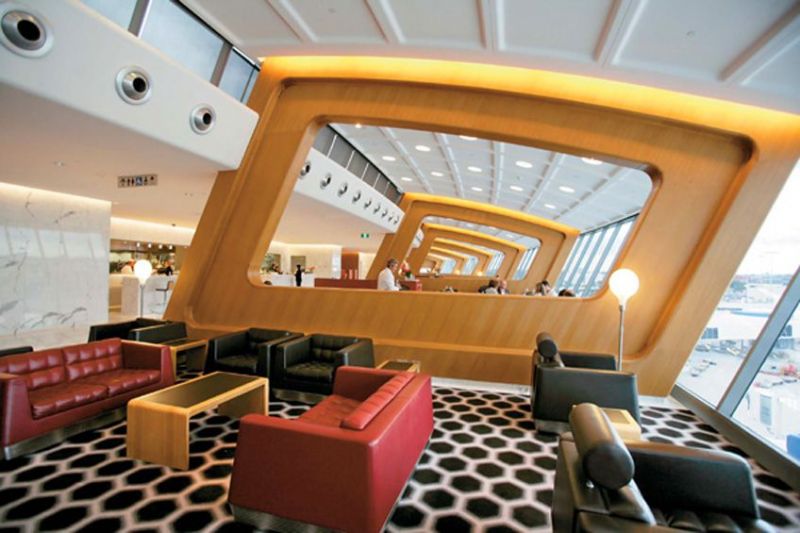 Designed by Marc Newson, The Qantas First Lounge at Sydney International Airport is consistently ranked amongst the best in the world. Sculpted wooden dividers made from oak separate the lounge in Sydney into open, bay-like sections, shaped like an airplane's wing. The furniture throughout the lounge – including reclining chairs, sofas, dining tables and chairs – feature a colour palette of dark red, ochre, and subdued warm tones, inspired by the Australian landscape and aiming to give an overall biophilic effect on guests. The lounge houses not only spaces for work, rest, and relaxation, but features a full spa and five-star restaurant run by chef Neil Perry, who is also responsible for overseeing Qantas' in-flight meals.
LATEST STORIES DEV