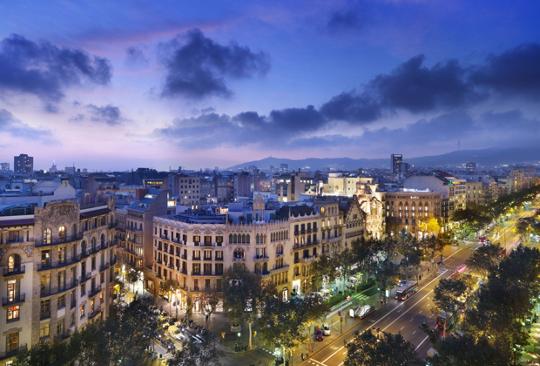 All hail sunshine in the street art and skateboarding capital of Europe — the city of Barcelona. Within a two-hour flight from London, Paris or most other European cities; Barcelona is the perfect destination for autumn sun with temperatures averaging 20ºC and no summer crowds.
Teeming with Gaudi's quirky works, pre-dated structures, hilltops and a not-so-natural beach (that blends in with the cityscape almost effortlessly); Barcelona is a great option for a quick escape. From modern shopping to day trips to a monastery in the mountains to mosaic-inspired houses to alleys full of tapas bars; you will never be short of things to do.
I headed out for a to explore its Asian charm a la Mandarin Oriental style.
Barcelona with an Asian touch
Reinstating the drudgery of an age-old bank at Passeig de Gracia with the classic warmth and care of an Asian hotel, the Mandarin Oriental Barcelona is not easy to miss. Look for a fashionista-esque runway ramp and insta-lovers posing with charm and you are at the footsteps of this Asian chain's Spanish outpost.
While the friendly staff took every step to make me feel welcome, I could not help but notice (and compliment) their smartly designed kimono-style jacket that kept the Asian touch going. A quick tour and I was amazed at how this city-centre hotel fitted in a Michelin-star restaurant, an all-day diner, a rooftop lounge and pool, a spa and indoor pool, a bar retaining the bank's ceiling-high safety vaults, 120 rooms and a secret garden.
The suites in the new heritage wing (started in 2014) were smartly spaced, each one with a walk-in closet and a vintage-looking balcony overlooking one of Barcelona's main streets. Although close to it, retreating in the rooms felt like living in one's own sanctuary given the warm lighting and the special treatment by the staff. It is very thoughtful of them to keep me informed of the weather forecast and events in the city, that greatly helped me plan my day.
While a major draw for the hotel is the two Michelin-starred restaurant Moments — inspired by Catalan cuisine and managed by well-known Chef Carme Ruscalleda and her son Raül Balam; my favourite part was the mini-terrace garden above it. The perfect backdrop for an urban wedding, it is great for small gatherings and private dinners during summer; and on a good day, it is the best relief from the sores of a big city. The landscaped garden and subtle furnishings made me want to hibernate for the rest of my day.
I almost settled for my spot, had I not witnessed the splendid sunset from the rooftop tapas bar, Terrat. Overlooking the pool, central Barcelona, Casa Batllo (by Gaudi) and a drink; as I indulged, words by a general manager, Jorge Monje replayed in my head: "A hotel should be a place where the community meets".
Earnestly welcoming, the staff at Mandarin did feel like a cosy family, with each one eager to share suggestions, or caring for my comfort at all times. Jorge thinks, "love is the secret ingredient that keeps the Asian touch of this place going."
Blending in with Barcelona
Although European himself, Jorge has spent nearly two decades working at various hotels in Costa Rica, Bali and Bhutan and hence take the Asian community feel to his heart. From the bar coasters inspired from the tiles on the street to the local designer amenities in the room, it feels like Barcelona even inside the hotel. Jorge noted they have taken efforts to embrace the city and its culture and that was well evident in the hotel store too which stocked local designer Miriem Quevedo and a specially curated 'Mediterranean' fragrance by Ramon Monegal.
Even amidst the tense political scene right now (the movement for Catalan independence), business may be slow but Jorge believes "the city has a lot going for it." It is with this spirit that Mandarin Oriental Barcelona went one step further to club local experiences and highlights of the city in their itineraries. While an excursion further afield to a tour of l'Origan Cava cellar may not be uncommon, the experience here continues with a dinner tasting menu for two people with wine pairing at Blanc restaurant by Carme Ruscalleda, the most starred woman in the world with seven Michelin stars also known as "mother of Catalan cuisine". Others include a gourmet tapas and wine tour around the bustling neighbourhood, the Boqueria Market and Barceloneta and one with behind the scenes access of the Liceu opera house and opera with a themed tapas and drink at the Banker's Bar at MO to complete the experience.
Mandarin Oriental takes it spa seriously and wellness is quite synonymous with them. But I rolled my eyes when the director of communication, Monica Homedes told me the spa at MO Barcelona was "a closely held secret…of the locals". Frequented by Barcelona residents, their gift cards are highly popular she added. With lavishly long Mediterranean treatments, I clearly see why.
Whether I was in the hotel or outside, the Barcelona vibe tagged along — from their extended street entrance to local designer push; Mandarin Oriental felt like experiencing a slice of the Barcelona lifestyle in addition to perks of its reputed service.
Only then I realised what Jorge actually meant when he said, "Mandarin Oriental does well if Barcelona does well…as our only reason to exist is the destination itself."
Mandarin Oriental, Barcelona offers rooms from EUR 475 (approx USD 550) per room per night – when booking three nights guests receive a fourth complimentary night, on twin sharing basis.