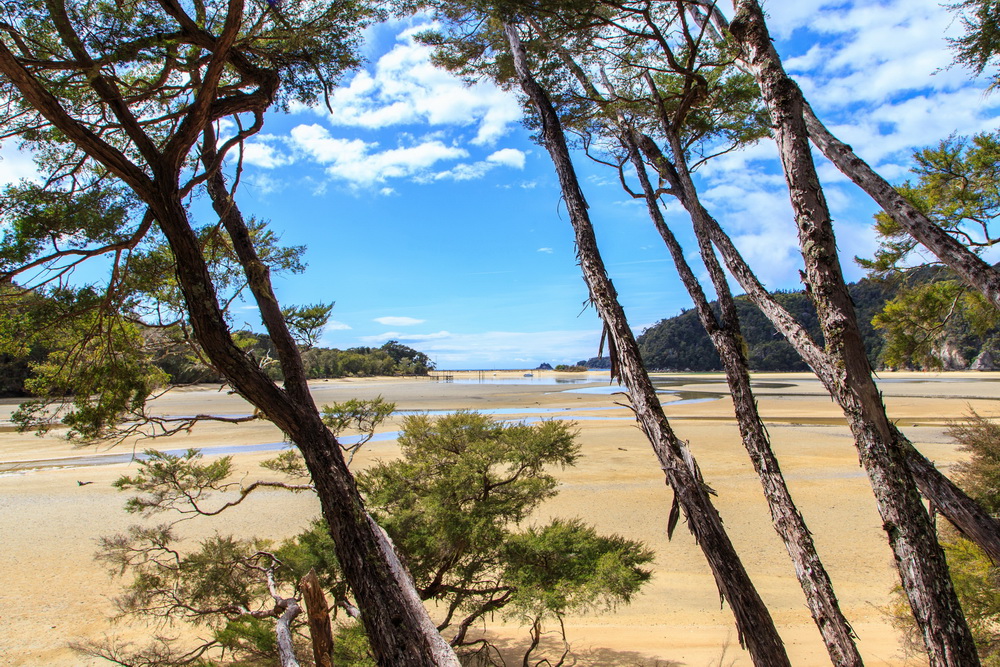 Royal couple Harry and Meghan, the Duke and Duchess of Sussex, arrived at Totaranui in Abel Tasman National Park on Monday 29 October. Here's how you can experience the same location – without being a royal or a serious hiker.
You can discover New Zealand's most popular seaside paradise with a boat cruise, by kayaking or with a thrilling skydive.
It's not quite Piccadilly Circus or Times Square, but New Zealand's smallest national park is one of its busiest, up there with icons such as Fiordland and Tongariro. Unsurprisingly, the summer months see the most visitors, but is this really the best time to go? Time your trip to discover Abel Tasman off-peak, when great weather and thin crowds are just part of its allure.
April through September is a terrific time to encounter the national park's remarkable wildlife. Super-cute New Zealand fur seals / kekeno are at their most active during winter, especially playful pups who push the boundaries while their mothers are pregnant again. Dolphins are also regular visitors through these cooler months.
There are plenty of seabirds to spot, including penguins popping up among the waves, and shags (cormorants) on the wing or perched on high. In the forest, birds such as weka, fantail, and the beautiful native pigeon, the kereru, reveal themselves more readily without the crowds.
Walk the Great Walk
If hiking Abel Tasman's Coast Track is on your hit list, consider visiting from May through November when the region's friendly climate produces plenty of sunshine and T-shirt temperatures. The park's golden sands, sparkling seas, sculpted cliffs and lush forest appear just as gorgeous as they do in summer, too.
Abel Tasman's tourist numbers drop dramatically after Easter, leaving space on boat transport and in the track's huts and campsites. Don't be deterred by the thought of cold mornings and nights – the Great Walk huts have solid fuel heaters, while lodge accommodation offers hot showers, hearty meals and snuggly beds.
Kayak the Coast
Solitude, settled weather and calm seas are good reasons to embark on the park's deservedly popular kayak trip out of peak season. So is the crisp air that brings the coastal scenery and crystal-clear depths into even sharper focus. Sure, the ambient air temperatures may take a dive, but this is nothing that a respectable paddling rate and an extra layer of clothing can't counter. It's not as if you actually have to get your feet wet…
Go swimming
Chances are, an Abel Tasman off-peak swim won't actually kill you. Reaching mid-winter lows of 10°C, the biggest risks are hyperventilation and shrinkage of bodily extremities.
Among many upsides are potentially uninterrupted skinny-dipping and the thrilling invigoration that comes from a bracing plunge. Not feeling convinced? Read on.
Cruise
Nearly three-quarters of Abel Tasman's visitors take a dip on a day trip, and it's not hard to see why. A cruise is a particularly great way to experience the park off-peak, especially on larger boats with their comfortable onboard lounges, viewing decks and freshly prepared food and hot drinks.
There are plenty of tour options to suit your itinerary and interests. Sit back and enjoy the views on the way to highlights such as Split Apple Rock and Tonga Island seal colony, or hop off at iconic beaches such as Anchorage or Awaroa.
Skydive
If you want to see it all in one go, you can always choose to leap out of a plane with Skydive Abel Tasman. It's the only skydive drop zone in New Zealand with views over both islands as well as mountains and the ocean at the same time – from volcanic Mt Taranaki on the western extremity of the North Island, across the sea and the national park, and all the way south to the northern Southern Alps and the Marlborough Sounds to the east.