Agoda's 'GoLocal' campaign aims to boost domestic tourism
Agoda has launched the "GoLocal" campaign which aims to stimulate domestic tourism across the Asia Pacific.
Due to unique travel regulations in every country, travelling overseas may not be in the cards of some travellers any time soon. Since it is much easier to travel locally, experts believe that domestic tourism will be the first to make a rebound.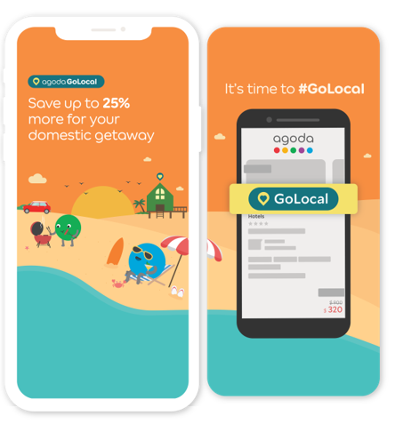 Agoda's GoLocal campaign helps accommodations to reach and convert travellers looking for great domestic travel deals. Thousands of hotel partners have signed-up in the pre-launch phase. In its largest domestic travel initiative, Agoda has developed a fully integrated sales and marketing campaign to support its GoLocal program, investing in coordinated social media campaigns, digital brand activations and video content, and targeted public relations activities, as well as bespoke customer marketing and a dedicated landing page.
Partners signing up to GoLocal are offering up special domestic deals. In return, participating partners will be featured across various Agoda product and marketing touchpoints, strategically identified to maximize the impact of the campaign. These include the exclusive agoda.com/golocal landing site for domestic travel, GoLocal badges to highlight participating properties on Agoda, plus exciting brand and performance marketing activities. Strategic partnerships with key verticals will highlight and promote partner hotels and properties, further extending the reach of the campaign.
"As restrictions on travel ease, we want the GoLocal campaign to stimulate domestic travel demand across the Asia Pacific and beyond, by using creative content and messaging to inspire as many travellers to explore their own countries, reconnect with local culture, and discover hidden gems. We will encourage them to safely learn to travel again and help our customers to find the widest choice and best value deals to do so. We're going all out to make this campaign a true success, so our partners can ride this wave of increasing demand, and strive for better times ahead," said Errol Cooke, vice president Partner Services, Agoda.