All you need to know about travelling to Hajj
Contributors are not employed, compensated or governed by TD, opinions and statements are from the contributor directly
While religious tourism is rising, the sheer number of devotees visiting Mecca for Hajj each year bring this unique travel experience to the fore. With Hajj 2018 almost upon us, the experts at Skyscanner answer all our Hajj travel queries.
First, the entry and exit dates for those travelling on Hajj visa: First date of entry is 14 July 2018 and last date of entry is 15 August 2018. First date of exit is 26 August 2018 and last date of exit is 25 September 2018.
Where can I go on a Hajj visa?
If you're traveling on a Hajj visa, you're only permitted to travel to certain areas in Saudi Arabia. Responsibility for obtaining the correct visa and booking the right flight does fall on the passenger, and without the correct documentation, you'll not be able to board the flight or receive a refund.
The three different visa types are Hajj, Umrah and Visit and where you can go is determined by which visa you are traveling on. With a Hajj visa, you must disembark in the cities of Jeddah or Madinah (also known as Medina) and are not allowed to travel to other parts of Saudi Arabia. There is also the flip side to this law that means anyone on a visit or Umrah visa is not allowed to enter Jeddah or Madinah during the Hajj period.
What is the baggage policy for Hajj flights?
Airlines all have their own standard baggage policies. However, there may be a specific Hajj 2018 allowance imposed by Saudi Arabian authorities that you must follow. These differ depending on the country you are departing from, the airline and agent.
For example, the Saudi Arabian Embassy in Washington D.C. states the maximum baggage weight is 32kg and size is 56x45x25cm, regardless of airline policies that allow larger luggage. However, traveling on SAUDIA airlines from the UK it is possible to take up to 2 x 23kg, a total of 46kg.
Any excess baggage must be shipped and to make this easier there is now Authorized Hajj cargo service centers in Makkah and at King Abdulaziz International Airport.
Pro tip: Make sure you contact your Hajj and Umrah package agent and airline directly to check the baggage policy or speak to your local Saudi Arabian Embassy.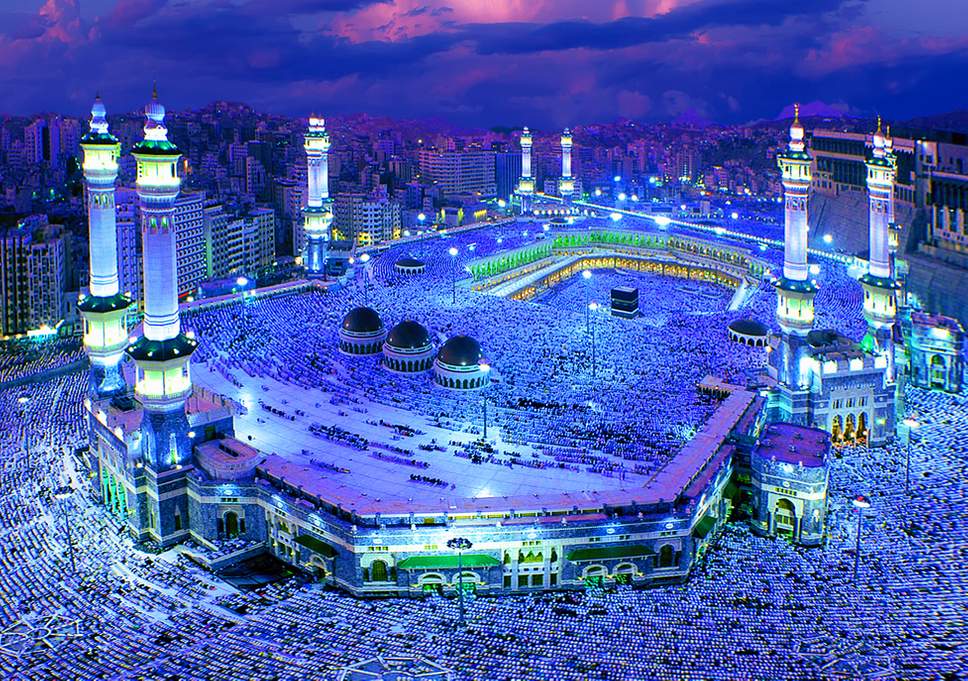 Can I bring back Zamzam (holy water)?
Most airlines allow passengers returning from this pilgrimage to bring up to five litres of Zamzam as checked baggage at no additional cost. But it is strongly recommended to check with your airline – they may even have organised complimentary Zamzam for you. Make sure your Zamzam bottle is properly packed in the special plastic Zamzam bag to avoid leakage.
What time should I check in at the airport after Hajj?
When it comes to checking-in at Jeddah and Madinah after completing the pilgrimage, there are different rules for different airlines. In general, passengers traveling on international airlines, such as Emirates, must report to the airport check-in desk six hours before the scheduled departure time. Travellers flying on a Saudi based airline, such as SAUDIA, need to arrive at the airport three hours before departure time. However, as the rules vary so much from airline to airline, national or international, please always consult with your airline directly to make sure you arrive at the airport at the correct time.
Pro tip: During the Hajj period airports can be extremely busy and lines long so it is advised to be prepared for a lot of waiting around.
Is photography allowed?
There are certain rules regarding photography that you should follow in Saudi Arabia. It is forbidden to take photos of any government buildings, military installations or palaces, so make sure you know what is around you before taking a snap. Authorities also advise avoiding taking photos of Saudi locals. Binoculars can be confiscated if brought into Saudi, so best to leave those at home.
What is this year's best Hajj app?
Manasikana is a handy app to provide guidance when on a Hajj journey. It has been updated for Hajj 2018 and is now available in Arabic, English, Urdu and Malay, and offers a variety of features, such as maps of Makkah, Jeddah, Madinah and Holy sites, highlighting places of interest.
The map feature helps to identify current location and provides the journey time to the next destination. There are also safety features such as important telephone numbers and allows family and friends to track your location in real time. You can even find prayer times, weather conditions, currency conversion and news.