ANA reveals new First and Business Class seats
All Nippon Airways (ANA) has today announced brand new luxury cabin designs, in its 'East Meets West' collaboration between Japanese architect Kengo Kuma and British design firm Acumen Design Associates, whose previous work includes United Polaris Business Class and Etihad's 'The Residence'.
New cabin designs include the world's largest 4K resolution in-flight entertainment screen in First Class, and an innovative new Business Class seat with a private door and multi-functional lounging and dining capabilities.
The new First Class product, "THE Suite", and the new Business Class design, "THE Room", will debut on the Tokyo to London route on the airline's redesigned Boeing 777-300ER aircraft from 2nd August
The new First Class product is reminiscent of the latest version ANA has installed on its Airbus A380 aircraft – now flying the Tokyo – Honolulu route.
It's an all-new design inspired by luxury Japanese hotels with fully enclosed seating, the most spacious the airline has ever installed on its aircraft. The First Class cabin is finished in a luxury dark wood.
First Class seat. (Image: ANA)
New features include the addition of privacy-enhancing doors as well as a crystal-clear 43-inch in-flight entertainment screen. The airline claims this is the world's first 4K personal monitor on a commercial airliner.
THE Suite also features a movable partition, which can be adjusted upon request to 'pair' two middle seats together when travelling as a couple or with a friend.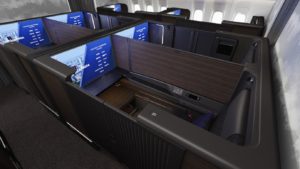 A total of eight First Class 'Suites' will be installed on the airline's Boeing 777-300ER aircraft, in a two-row cabin with a 1-2-1 configuration.
Business Class – THE Room
Another brand new seat design for ANA is found in the Business Class cabin, with 64 seats across three separate sections in a 1-2-1 configuration, featuring direct aisle access for all passengers.
Unusually, these seats will alternate between forward-facing and rear-facing at each row.
The design is inspired by modern, multifunctional Japanese living spaces, and includes "flexible doors for personal privacy".
Though it's not clear from the press images, doors at the seat side and the access area fully close to create an enclosed suite.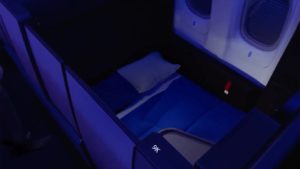 Business Class seat in bed mode with doors closed. (Image: ANA)
The width of the Boeing 777-300ER cabin allows this to be a huge Suite, around twice as wide as existing ANA Business Class seats, including a wide sofa.
As with most new Business Class seats today, ANA has promised a 'place for everything, with several discreet storage areas for your personal belongings.
The finish is in three different styles of wood, Rosewood, Light Japanese Ash and Dark Japanese Ash, complemented by ANA's signature deep blue accent hues inside each compartment.
Other cabins
Down the back of the plane, there are 24 Premium Economy Class seats in a 2-4-2 configuration, followed by 116 Economy Class seats in a predominantly 3-4-3 configuration.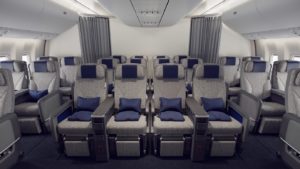 Right at the back in Economy Class, there are seven 'couple pairs' by the window as the fuselage narrows; the last four rows on the left and the last three on the right.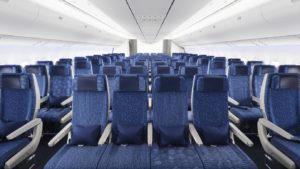 Other upgrades
Elsewhere in the cabin ANA has also enhanced the Premium Economy and Economy Class seats and has also completely revamped the entrance area of the aircraft to create a hotel-like reception complete with welcome monitors.
Cabin lighting in First and Business Class is custom-designed by Panasonic to improve comfort, while bespoke mattresses and bedding will be provided by Nishikawa.
A redesigned self-service bar counter with a TV monitor and a fridge will also be installed.
The dining service has also been reimagined, including new premium international cuisine tableware from later this year.
Summary
A truly impressive looking First and Business Class seat design from All Nippon Airways, we're looking forward to seeing this roll out to other routes in future as more aircraft are refitted, and hopefully getting on board ourselves for a full review.