Joining offbeat trips is serious business: Q&A with Tripkada CEO April Cuenca
Contributors are not employed, compensated or governed by TD, opinions and statements are from the contributor directly
With her bright smile, tanned skin and sandals, April Cuenca looks more like a college student than an entrepreneur who channels her passion into Tripkada, the curated trip-joining startup that we featured a while back. I sat down with her recently to learn more about how both she and the startup she built are disrupting the Philippine travel industry.
TDM: First things first: where did you gain your experience to start Tripkada?
April: I actually dropped out of college when I was 20, haha! I first worked as a tour coordinator for a travel agency that only ever did adventure trips outside of the country. We decided to enter a travel show to showcase the Philippines, but back then we didn't actually have the network to connect travellers to their preferred destinations.
I asked him for money to go backpacking around the country to boost our supplier list. I told him, "Just let me go, I'll travel in the cheapest way possible, and when I get back I will have the logistics (for the show)." So I did, and we did the travel show.
Although the show didn't pan out so well, I had gotten so much knowledge about the Philippines that people were contacting me on LinkedIn and Facebook to consult me for their tourism operations. If they wanted to add a new destination, or they wanted to create a new tour circuit, they would ask me. A lot of them were foreign.
TDM: It seems like you're Richard Branson, but for Philippine tourism!
April: Thanks! A lot of what I now know and what I do with Tripkada are self-taught, or I learned them from books. The "WOW Philippines" campaign (by the Department of Tourism circa 2002) has also been a major influence on what we are doing.
Like I said, I began as a tour coordinator, then I worked in marketing. I took a lot of different jobs in the travel industry, but never for a big company. So, when it came time for me to strike out on my own, not just as a consultant or as a freelancer, I came up with FlipTrip, then Tripkada.
TDM: How many people did Tripkada start with, and how big is the team now?
April: When we launched in August last year, there were only three of us in operations and three part-time developers in tech. Now, we've grown – we are seven in operations, and three full-time developers in the tech team. From having three organizers, we now have hundreds of organizers! We're still trying to train and test most of them because of quality assurance, but it's coming along.
TDM: So you do all the training yourselves?
April: By training, I mean we hold outdoor education classes, which is mandatory for all of them. They have to know basic first aid, life support, wilderness survival and traveller ethics.
TDM: Are the original partners from FlipTrip or the start of Tripkada still part of the team?
April: Just my development co-founder, Ragde Falcis. We used to be three. Jackie Yap was our marketing co-founder. She has since gone back to working with her family in another country.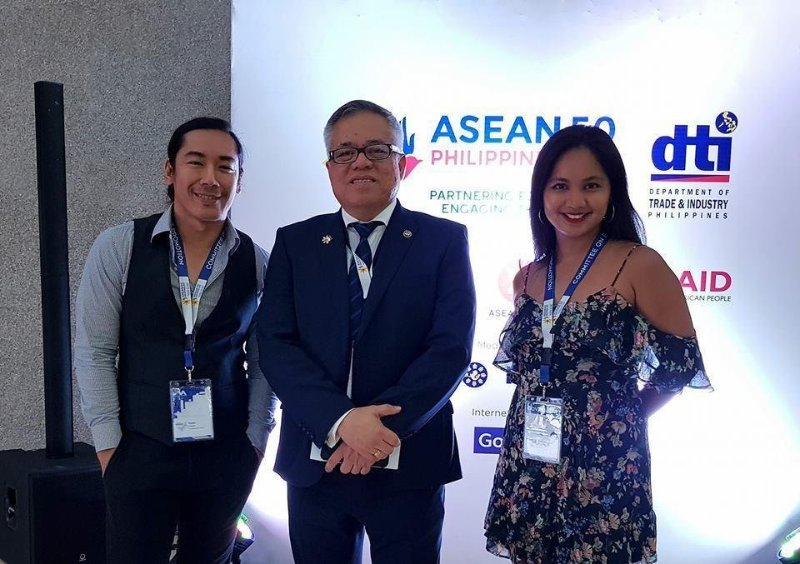 TDM: And you've organised how many trips so far?
April: I have no idea at this point. I should be able to answer that question by the end of this week though because I'm doing the 2017 audit already. (* Update: They can safely share that they've clocked at least 2,000 trips in 2017.)
TDM: What convinced you to set up your base of operations in Poblacion (the traditional side of Metro Manila's central business district)?
April: The bars! … No, it's also foot traffic! The majority of hostels in Metro Manila are within a 400m radius from this office.
TDM: Which trips did people really signed up for and go on? And which ones do they want repeats of – either "I went last time and I want to go again," or "I signed up but missed it, so I'm taking the chance now"?
April: Normally it's the first destination that a person goes to. That said, Mount Pulag (the Philippines' third highest mountain) is always a crowd favourite. A lot of people keep complaining that it's overcrowded, but I think the developments in the last year have helped make it less so. I also think it's gotten better because the locals and operators are more capable of working together.
For beaches, Siargao (an island province in southern Philippines) is now our most-requested trip. It's quite far and expensive, but it's on the bucket lists of so many people for a good reason. It's comfortable but it still has the backpacker vibe when you're there. I mean, like in Mount Pulag you can camp without camping.
TDM: Camp without camping?
April: Yeah. When you're in Mount Pulag you're put in a homestay programme. You feel like you're roughing it out because it's not your house, but it's really not roughing it out at all! It's the same situation in Siargao.

TDM: Which destination would be Tripkada's dream to offer to travellers? Since you specialise in off-the-beaten-track travels, what's the one place that you wish more people get to see?
April: Well, most of our destinations are that way! But our absolute dream for Tripkada would be to provide more trip opportunities to Mindanao (southern Philippines) because that would mean that the Philippines is also growing as a whole. It would mean the armed conflict there would be gone. There are a lot of really beautiful places that I never could have imagined would exist in this country.
TDM: So you mean it's not all just beaches or mountains?
April: No, no, no. The amount of culture that you'll find, and history … one of my personal goals is to get (Filipinos) to live their own history because most travel startups would always look for a geographic scope. It's always about being an international company, going through the region first then going global.
Tripkada focuses on getting Filipinos to travel locally, and a lot of that stems from my personal wish to get them to live their own history and appreciate their own country. When they are able to experience that here, then it would be a dream come true.
Portrait of a startup as an adventure
TDM: Has it been an issue, trying to build a startup in Metro Manila?
April: People always think that it's harder. If you don't have a lot of resources they think that you can't do it. But we've done it with very minimal resources.
TDM: So is Tripkada mostly bootstrapped at this point?
April: We were very fortunate that we received angel investment during Q2 last year. But we've been very, very frugal in using it. Before that, it was all bootstrapped.
I think what Filipinos need the most now to be empowered to launch their own startups is to see somebody who doesn't quit.
TDM: Do you think the Philippines is ripe for travel startups?
April: I think, in general, the Philippines is ripe for innovation. But what I want to see in the startups that come in is resilience. It takes a very strong stomach to be a travel startup here. New startups must come in and understand the industry from an experience point of view before they can try to disrupt it.
TDM: Just to clarify: to get anywhere as a startup, you need to have both a very strong stomach and passion?
April: Passion backed up by experience, or at least the time and financial resources to be able to go through the training, to get the experience. No matter how much you want to do something, it's very hard to stay focused and passionate about it if you can't afford to even feed yourself with ramen – and I mean instant noodle ramen, not real ramen!
What I am proud about Tripkada is that we took with us every mistake we made throughout our startup journey from FlipTrip to Tripkada.
Even FlipTrip had times like the high when you win a competition. We didn't have that for Tripkada. With Tripkada we were always just operating in the background and learning from our community. Let's take the app wireframe as an example. Honestly, when we launched the TripKada app the first time, it looked … well, not really ugly, but very masculine and tight. So, little learnings along the way keep us changing and improving.
TDM: Out of all the Philippine travel startups, you're one of the first to focus on local travel. Is there anybody, whether here or abroad, that does it in the same style as Tripkada?
April: No. What you'll normally find are experience-based travel startups like Airbnb Experiences. They believe that any person can be a local guide. But to us, not everybody can be a guide, because being a guide takes knowledge and skills.
What I mean is you can teach people what you're passionate about. But the way we work is that we believe everybody can create trips and tap the locals who are the true guides. If a service can be given by a local for any trip, a local will service it. We don't want to overlap responsibilities. That's the main difference.
We're also different from travel agencies in that we don't operate the trips ourselves. It's like Airbnb or Uber: the trip organisers are not in-house, they're a community. They also function more like coordinators: they make all the arrangements, they run all other logistics behind the scenes, they make sure travellers are comfortable. That helps us to scale faster to more trips and destinations. Maintaining quality assurance is a lot harder, but it's a challenge we're willing to take.
TDM: What other differences do you feel set you apart from other tour operators today, particularly larger companies?
April: We value low-impact groups since we believe in sustainable and responsible travel. We like to keep our groups small. However, they are still many enough to fit a van comfortably.
Larger companies connect with travel agencies and formal tour operators to create tours. We give that to the crowd. We value creating the job opportunity.
Also, while we don't close our doors to registered businesses – we have quite a few of them – we do open the doors to people who want to begin creating trips and leading groups. We work with them because that creates more micro-businesses that someday in the near future will become registered businesses.
TDM: What are you looking forward to this 2018? What places or trips can you tease us about, especially ones that you've never had before?
April: We're very excited to have more trips in the Visayas region (central Philippines) and in Mindanao. We're looking forward to building more communities of travellers because it's not just in Metro Manila where there are people that want to travel. We're excited to expand more this year, to refine a lot of our processes, and to show everybody that you can create a startup in Metro Manila!
TDM: How do you think will the current administration's attitudes on travel and tourism affect Tripkada's plans? What really helped Philippine tourism was that the past administrations had a really good handle on what was needed in the travel industry, like investing on infrastructure and showcasing what each location had to offer.
April: I think the only factor about this administration that really affects us is the tax reform law (now in effect) because it affects our price points. But the promotion of the destinations that we offer, and the aspirations for people to visit them, don't necessarily come from the Department of Tourism's marketing initiatives. Rather, they come from private initiatives of people on social media – it's FOMO (fear of missing out). Filipinos have this strong sense of making bucket lists and sharing experiences. We use Facebook and Instagram incessantly here, which just makes it so much easier for people to learn about things that they could possibly do and have as new experiences.