CBInsights reviews 2017 trends in travel tech start-ups and investments
User role is=
Array
(
    [0] => subscriber
)


Contributors are not employed, compensated or governed by TD, opinions and statements are from the contributor directly


                                                             

                                                               
In a previous article, I discussed how technology has transformed the hospitality industry. But what about the overarching travel industry, which is a bastion of innovation ever since the ancient Eurasian civilisations decided to use the wheelbarrow – essentially sticking a wheel (or two) to a cart – to move people around when it already did the same for goods and animals?
Tech analyst company CBInsights argues that travel tech is evolving faster than Pokemon. The experts in machine learning, algorithms and data visualization, report that corporations and venture capital (VCs) firms worldwide are racing to stake their claim, not caring if travel was neither within their scope nor interest. Contracts and cash-ins reached record yearly highs in 2017 after five continuous years of deal growth, with nearly US$5.3 billion invested across 348 deals.
Travel tech financing makes history
Asia saw an unprecedented investment high in 2017. In one of the year's biggest surprises, Indonesian unicorn Traveloka raised US$350 million in funds from Expedia during the former's Series B round (more on this later). China's own unicorn TuJia, whose vacation rental services position it as a rival to US-based Airbnb, garnered US$300 million in its own Series B follow-on thanks to online travel agency (OTA) Ctrip and other firms.
Speaking of Airbnb, the home-sharing US unicorn went on to make the second largest deal of the last year by raising a $447 million Series F fund in Q1 2017. Since it's the fourth year in a row that Airbnb has taken one of the top 2 spots for the largest deals ever secured by a travel tech start-up (its US$1.5 billion Series E round was responsible for the US$5 billion investment high of 2015), we're willing to bet that it will keep its lucky streak in 2018.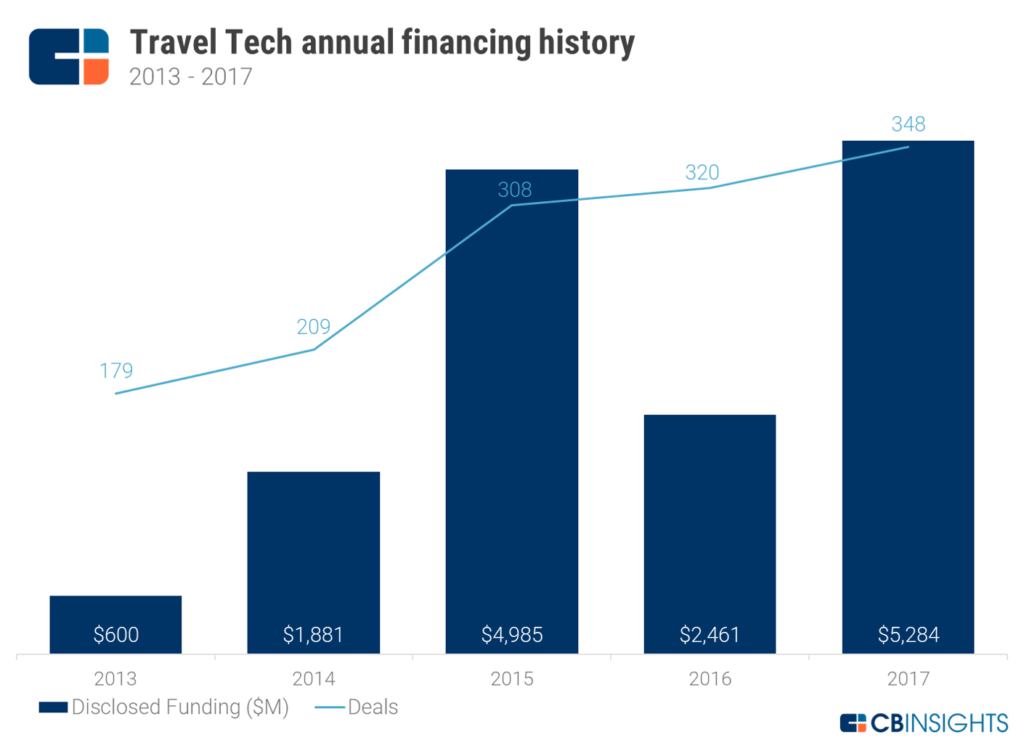 But the big winner of 2017 was Virgin Galactic, a space tourism company under Richard Branson's Virgin Group. In line with its plan to launch commercial flights in 2018, it raised a US$1 billion funding round thanks to the Public Investment Fund of Saudi Arabia, which is now seeking to diversify its economy away from oil.
That doesn't mean we've seen the last of the early-stage deals (Seed/Angel and Series A funding rounds) just yet. CBInsights says that these boons for new start-ups in fact form roughly 60% of all 2017 deals even as we see their share of deals sliding down since 2013. The largest of these early-stage travel tech deals happened last year when Upside, a business-to-business (B2B) start-up, raised a US$50 million Series A fund.
Money makes the travel tech world go round
So who are investing in travel tech and where are they coming from? Many of them, as it turns out, are also global in origin. Four out of the six most active VC investors are based outside of the US, and out of the 50+ start-ups they have all invested in 15 are based in Asia, 17 are based in the US, while the rest are located in Europe.
In the lead with 16 unique travel tech investments since 2013 is US-based 500 Startups. The most active global VC investor includes artificial intelligence (AI)-powered personal travel agent Voya and LGBT-oriented home-sharing start-up Misterb&b in its funding portfolio.
Germany-based Global Founders Capital, a stage-agnostic investment fund set up by the founders of Rocket Internet, follows with 11 unique investments in travel tech.
Interestingly, one of the most active VC investors is part of Spain's largest financial institution, La Caixa. The Spanish Caixa Capital Risc has 7 unique investments but funnels its monies to homegrown start-ups. It share the honour of funding hotel booking platform ByHours with Howzat Partners, which is headquartered in Luxembourg.
Where the cashflow goes, the start-ups grow
As per CBInsights, majority of the travel tech pie belongs to international start-ups at 70%. Note that the US remains the largest single country to claim total global share of investment in this space at 31%.
It may soon face stiff competition from India, which has 10% of the global deal pie thanks to a booming domestic travel market. Just check out local travel websites like Goomo, as well as start-up platforms OYO Rooms and Treebo which make it easier to book budget hotels – also another travel segment in the country marked by increased growth.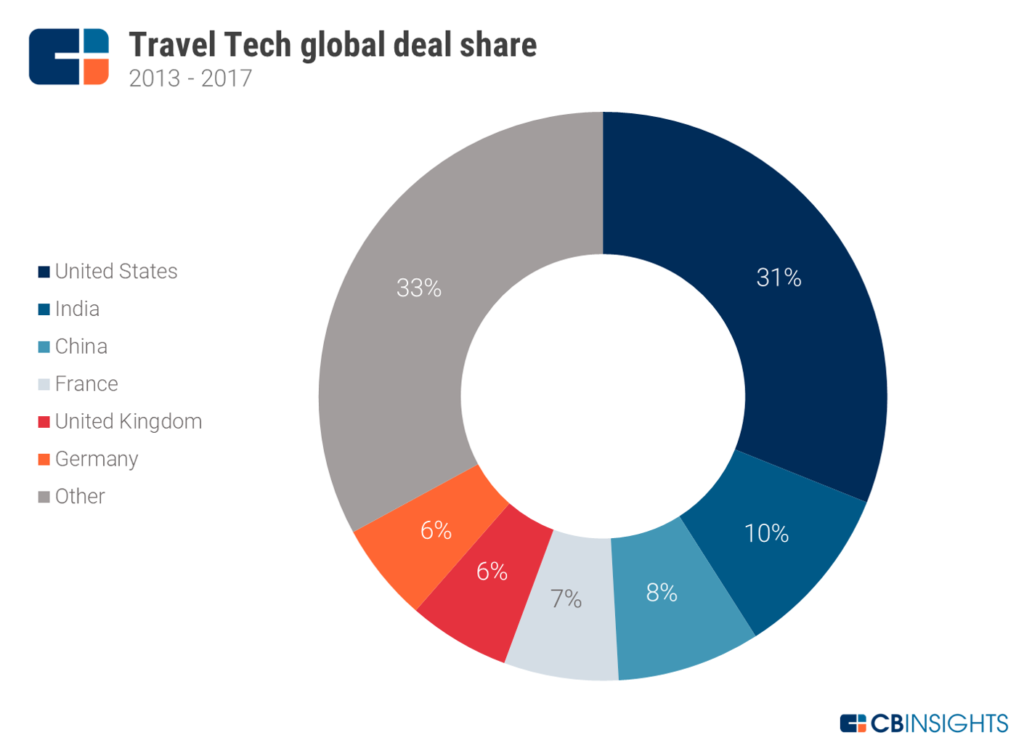 China takes its well-deserved slot of third place with 8% of all global deals, what with the sheer number of Chinese travelling abroad, which kicked off demand for vacation rentals. CBInsights notes that it's already right behind the US in terms of global dollar funding, with TuJia and other homegrown favourite XiaoZhu having raised close to US$1 billion combined and offering 650,000 and 200,000 rental listings respectively.
European countries like France, Germany and the UK, which are among the most visited countries in the world, attracted between 6% and 7% of global deals each.
Hey big spenders, spend some time with my start-up!
As mentioned earlier, the over-all growth of deals in the travel tech space has caused the number of start-up investments with corporate participation to spike. From just 18 deals in 2013, the number for 2017 is a whopping 88.
The most active investor at present is Tencent Holdings of China with eight deals since 2013. Amadeus Ventures follows with five investments, which means its parent company Amadeus – the largest intermediary between agencies and providers like hotels and airlines – is set on getting its piece of the travel tech pie.
We're also seeing travel industry stalwarts venturing into the start-up world. Leading hotel chains AccorHotels and Hyatt each took part in three deals in 2017 while OTAs Expedia and Ctrip participated in 4 and 3 deals respectively. Remember the Indonesian start-up Traveloka? The largest corporate deal in 2017 was Expedia's US$350 million purchase of minority share from the Asian unicorn.
The secret to an OTA's longevity: snap up start-ups
In fact, this injection by Expedia seems to be a calculated move – and it's likely one that we will be seeing more of, now that OTAs find themselves being challenged by the likes of Airbnb as well as other early-stage start-ups. OTAs got their start in the early 2000s, making them the first generation of disruptors in the travel industry; to stay in the game, they have entered 10 deals and 25 acquisitions over the past 5 years.
Out of these, leading OTAs Expedia and TripAdvisor are also the most active investors with 10 unique travel tech investments and acquisitions each. China-based Ctrip is in third place with eight deals, while Priceline is at the number four spot with seven deals.
We have seen the 'Big Four' OTAs hard at work using acquisitions to create and solidify market share: Expedia bought Germany-based Trivago while UK-based Momondo Group was bought by Priceline. Size matters in this space, and travellers are more likely to use a booking platform with broader offerings.
The other strategy used by the 'Big Four' is expansion, or tapping new territories well beyond the OTA's core geography. Ctrip's acquisition of UK-based flight comparison platform Skyscanner helps it keep its eye on the European market, and Expedia's minority stake in the Traveloka booking platform is a signal of big plans for Southeast Asia.
What's more, their interest runs beyond the planning tools to cover hotels and rooms themselves. For example, Expedia's reaction to Airbnb's growth was purchasing vacation rentals company HomeAway for US$3.9 billion in 2015, while Chinese home-sharing platform TuJia has had Ctrip as a long-time investor.
Even hotel operations have not been spared in the OTAs' quest for deeper involvement in the start-up space. For example, Priceline's Bookings.com purchased buuteeq, a digital marketing start-up for hotels which has since become BookingSuite. Meanwhile, Expedia invested in hotel operations software company Alice.
With all that, we're stoked to see what the travel tech space has in store for us in 2018! Note that the full CBInsights report is available on its website, www.cbinsights.com.
LATEST STORIES DEV