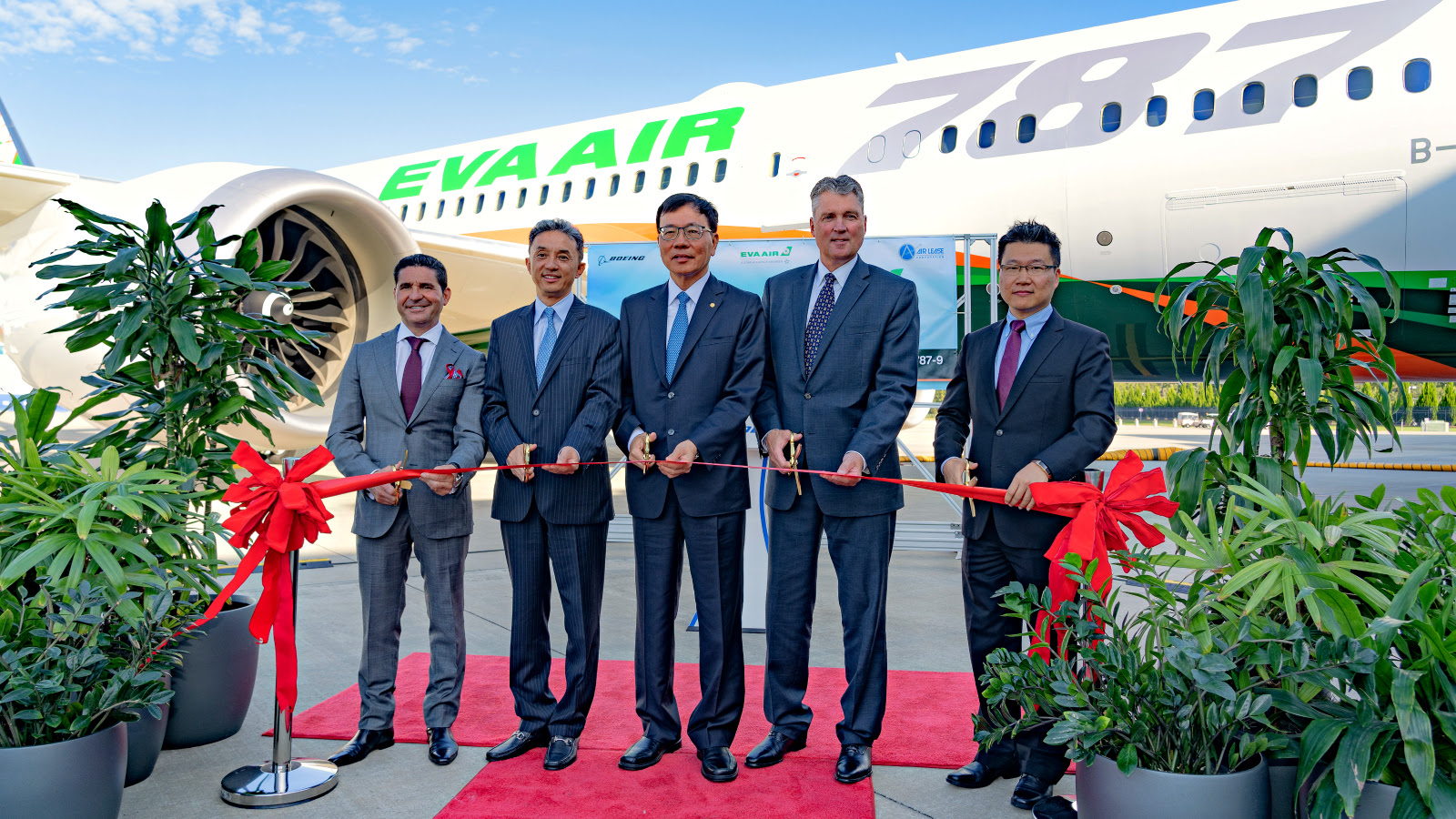 Taiwanese carrier EVA Air has accepted delivery of its first 787-9 Dreamliner aircraft. The delivery took place at Boeing South Carolina on 2 October where EVA chairman, Steve Lin, led a delegation to welcome the new aircraft, commemorating the event with a ribbon cutting ceremony. The aircraft will be flown to Taiwan and prepared for service.
On 1 October, the president and CEO of Boeing Commercial Airplanes, Kevin McAllister, hosted a dinner where ceremonial certificates were signed by chairman Lin and ALC executive chairman Steve Hazy, owner of the new Dreamliner that EVA will be leasing.
"Comforts and conveniences of the Boeing Dreamliner's advanced aviation technologies"
Lin said: "Our introduction of Boeing 787 Dreamliners gives us a younger and more efficient fleet and further upgrades our service quality. In addition to giving our passengers the comforts and conveniences of the Boeing Dreamliner's advanced aviation technologies, we have made great efforts to enhance our cabin service.
"We will launch new Royal Laurel Class business seats created by Designworks, a BMW company. And we chose Teague, a global design consultancy recognised for work in aviation, to design new Economy Class seats that RECARO, a German manufacturer known for sports car interiors, is producing.
"We are making these investments to give our passengers better flying experiences and further demonstrate our dedication to five-star airline service."
Further to this delivery, EVA will be adding 24 Dreamliners to its fleet, including four 787-9s and twenty 787-10s, between the second quarter of 2019 and 2022.
The Being 787-9 has a range of 7,100 nautical miles fully loaded and the capacity to fly from Taipei to Vancouver, Seattle, Vienna or Brisbane. The 787-9s will be configured for 304 passengers with 26 in Royal Laurel Class and 278 in Economy.
EVA's new Dreamliner is distinguished by the livery which incorporates green and orange stripes, representing Evergreen Group's corporate identity colours and aiming to suggest extraordinary flying speed.
Before Boeing began making the aircraft, it chose Evergreen Aviation Technologies Corp. (EGAT) to build four Large Cargo Freighters (LCFs) for transporting the Dreamliner's composite parts to manufacturing facilities for assembly. Boeing uses the LCFs to carry over-sized parts such as fuselages and wings manufactured in Italy, Japan and other countries to the US for assembly. The LCF made it feasible for Boeing to build the 787.
As soon as EVA gets its first Boeing 787-9, it will finalise preparations for putting the plane in service and work with Taiwan's Civil Aeronautics Administration (CAA) to get it certified. EVA estimates that it will launch the new Dreamliner in early November 2018. It will initially deploy the aircraft on its busy Taipei – Hong Kong route.
EVA's second Dreamliner is expected to be delivered in November 2018 and will be used to extend theairplane's operations to Osaka and Tokyo. The remaining two Boeing 787-9s are scheduled for delivery in 2019 and EVA will deploy them on major regional routes within Asia and flights to Brisbane, Australia.