AIME 2021 – Where Asia Pacific meets
WHEN ASIA PACIFIC MEETS
DO BUSINESS. NETWORK. LEARN.


The Asia Pacific Incentives and Meetings Event (AIME) is the leading trade event for the meetings and event industry in the Asia Pacific region. AIME is when industry decision makers connect, create and do business across the globe. It is the platform and focus for international and local buyers to access the best exhibitors from around the globe.
AIME 2021 will be held at the Melbourne Convention & Exhibition Centre from 15-17 March as well online from 15-26 March, making AIME 2021 a truly hybrid experience.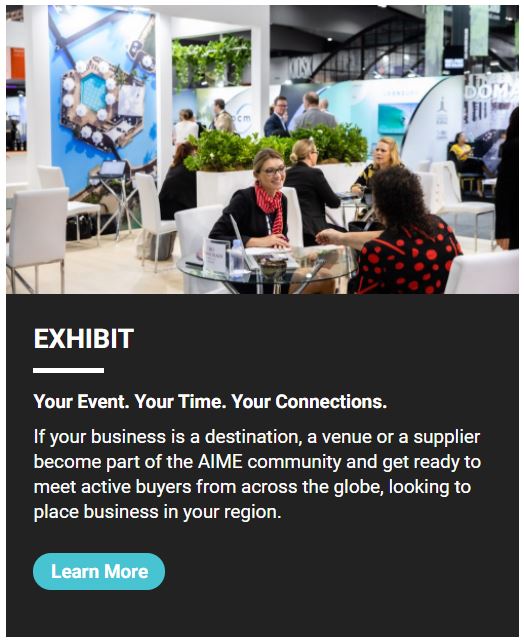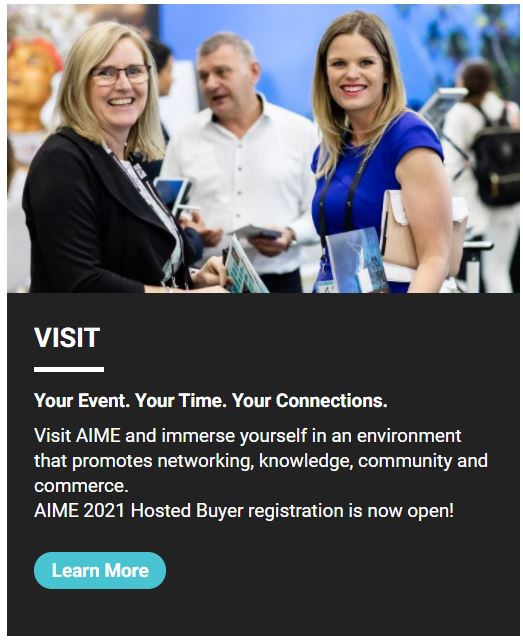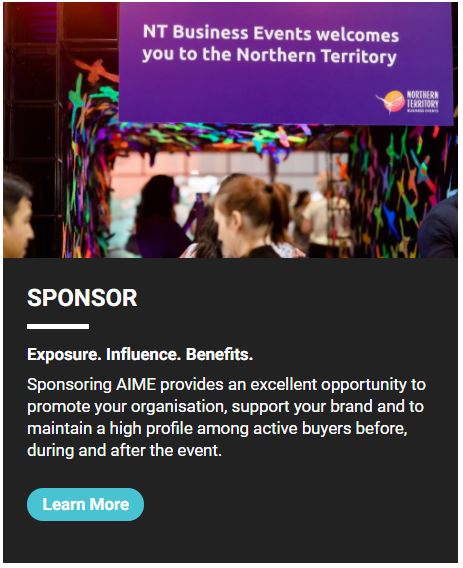 MORE BUYERS. MORE CONNECTIONS. MORE BUSINESS.
Taking place from 15-17 March 2021 at the Melbourne Convention & Exhibition Centre as well as from 15-26 March 2021 via AIME Online, AIME brings together the right buyers with the right exhibitors from across the world.
AIME delivers the forum for connecting with a wide range of buyers and exhibitors, brought together with a common spirit of curiosity and desire to do great business together.
Our curated Hosted Buyer Program ensures that the buyers who attend Asia Pacific Incentives and Meetings Event are ready to do business. Our bespoke pre-scheduled appointment system will align over 14,000 meetings, matching buyers needs with the destinations and services on offer from over 300 exhibitors.
In a new hybrid environment, when the key stakeholders in the industry gather, knowledge transfer and learning is fostered, the power of connection and community are realised at AIME.


AIME ONLINE – YOUR GATEWAY TO THE WORLD!
It is more than just a virtual exhibition, it is an AIME delegate's central information source for all things show related.
Our new online platform is the gateway to the AIME hybrid experience.
All attendees, whether they are at the live show or attending virtually, will use AIME Online.
Attendees will use AIME Online to:
Access meeting diaries
Conduct virtual meetings
Connect with fellow delegates from across the globe to network or schedule meetings
Stream or watch on demand, Knowledge program content
Browse the virtual exhibition hall to get a taste of what is on offer