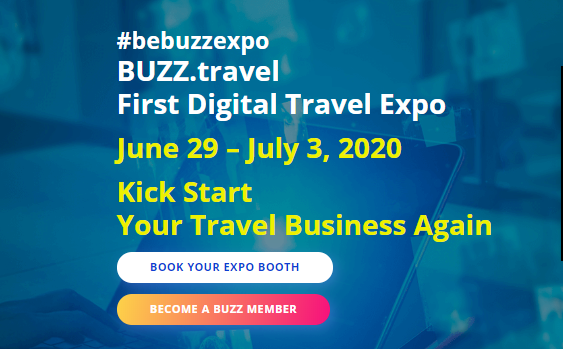 BUZZ.travel is the global communication and networking platform for travel professionals. Our company is based in Dublin, Ireland; but we work remotely from many places around the world.
Our travel and hospitality industry was thrown under the bus by the pandemic. How do we re-start; do we start where we stopped or what? What do you do, what do your partners and competition do? Learn from peers and industry experts, show how you react to the challenges, discuss, and get new ideas. The BUZZ.travel Digital Travel Expo is an interactive event for travel professionals that moves the global travel industry together again.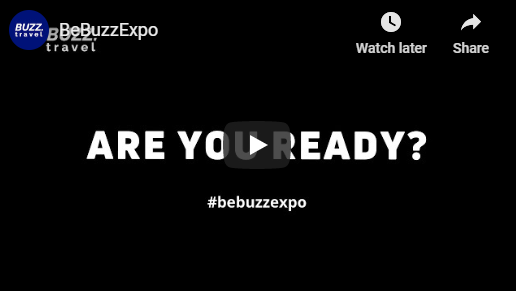 Why Should you Attend a BUZZ.travel Travel EXPO?
What do you imagine a professional Travel and Tourism Trade Show looks like – a lot of Exhibit Halls filled with speakers making presentations, suppliers showcasing their products or attendees meeting up for engaging discussions? Thanks to the state of our technology, we can now transform that interactive Trade Show experience completely online.BUZZ.travel Digital Travel Expo brings you the same features as an old-fashioned Travel and Tourism Trade Show – only digital (and much more time and cost-effective – and without the tired legs!)
How do we re-start the travel industry; how do you re-start your business? The switch was pushed, and all the lights went out at once; an exceptional and historical challenge for the travel and hospitality business. Most challenges are chances as well; challenges mastered are opportunities won. Now is the time to re-consider your business, find new partners, new markets, work better – use new technologies!
Enter BUZZ.travel Re-Start Travel Expo; get educated, get inspired, hear live keynote speaker and discussion, ask questions, and network with others – without flying to another city or country. You can stay at your desk and get useful input from industry peers, promote your services globally, produce your own live sessions, webinars, and event, and expand your network. An efficient way to work!
Companies that attend BUZZ.travel Travel EXPO
Who's attending?
DMO's – Tourism Boards – Associations & Networks – Tourism and Hospitality professionals – Hotels – Resorts – Travel agencies – DMC's and Tour operators – Travel Agents/ Advisors – MICE professionals – Event organizers – Online Travel industry – Airlines, Cruises & Transportation – Consulting & Hospitality Partners – Marketing, Media and PR Agencies – Influential travel/lifestyle bloggers – Professional Travel Education – Technology Partners – Media Partners and Press
YOUR REAL ONLINE EXPO TOOLS
Get your digital booth where you showcase your business and get access to all platform communication tools – make online meetings, produce your own Live events, webinars and interviews. Share your success on social media and in travel magazines worldwide.

Branded Virtual Booth
Virtual Booths are packed with features to interact online within the platform. Put your images, upload documents, ad banners and play video greeting messages to bring your booth to life.
Meetings Booking Online
Booking a meeting doesn't have to be complicated. Use the online appointment booking form for EXPO attendees for quickly scheduling your new meetings.
Interactive Expo Newsfeed
Generate more buzz around your business. Promote, share & comment – your content, images, or videos.
Live and on-demand Events
Showcase your business with your Live events. Get listed on Live events Agenda. We host, moderate, and stream your webinar or company presentation. Get Live event end-to-end support during all stages.
Face-to-Face Meetings
Modernize your meeting solutions with platform built-in collaboration tools via Skype, Zoom & WhatsApp. Select your preferred communication tool and start interactive meetings from any location.
Live Chat – real-time messaging
Attendees can talk before the event and follow up after it ends. Use integrated real-time messaging workspace, create your private or public groups and share files.
Invite & Promotion tool
Invite your connection to attend and meet you at EXPO online. Use the integrated email system and social media sharing tool for FB, LinkedIn and Twitter.
Support & Live Chat Team 24/7
Dedicated Customer Success Team for all attendees is always personnel available via email/chat while the event is live to answer all queries or resolve issues.