Live Online Event – Unchartered Antarctica onboard ​​Le Commandant-Charcot PONANT's world-first hybrid luxury exploration vessel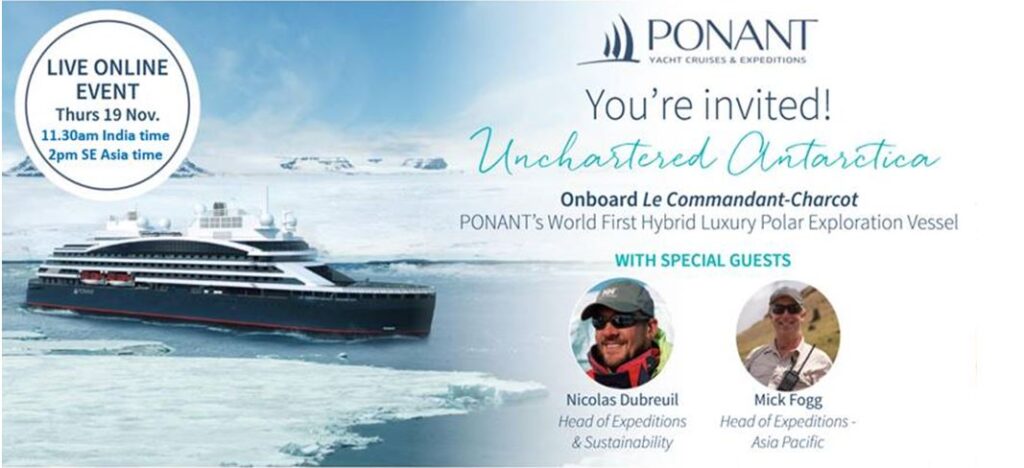 Unchartered Antarctica
Onboard ​​Le Commandant-Charcot
PONANT's World-first Hybrid Luxury Exploration Vessel
Thursday 19 November (approx. 35 min)
2pm AWST | 5pm AEDT | 7pm NZDT
Le Commandant-Charcot is the world's first PC2 hybrid-electric polar exploration ship and we can't wait for her inaugural season in Antarctica 2021/22. Join your host Craig Farrell and special guests Nicolas Dubreuil, PONANT's Head of Expeditions & Sustainability, and Mick Fogg, Head of Expeditions for Asia Pacific, to hear all about these exciting new Expeditions to the farthest reaches of Antarctica, and what you can expect from a journey onboard this revolutionary new ship.
– Exclusive Offers available on the day
– Live Q&A at the end of the event

– WIN 1 of 3 vouchers to put towards your next Expedition!