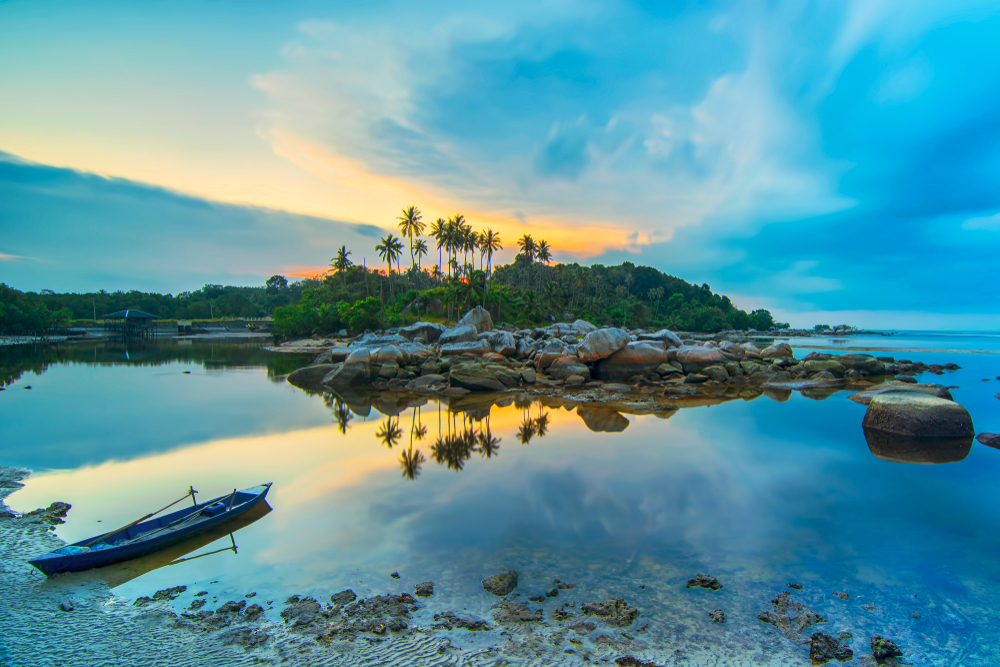 Genting Cruise Lines has arrived at Bintan Island, as part of Genting Dreams' collection of round-trip itineraries year-round from Singapore across the ASEAN region.
The introduction of the newly enhanced Two-Night Weekend Getaway cruise with optional Bintan Island shore excursions is set to provide vacationers with an option to explore the nearby tropical island destination.
With a 12-hour stopover on Bintan, vacationers will have plenty of time to experience the island, exploring pristine, white-sand beaches, quaint seaside villages and an impressive list of hotels and resorts offering watersports and activities.
Things to do in Bintan
During Genting Dream's visit to Bintan Island, guests partake in a variety of pre-planned shore excursions carefully vetted by Dream Cruises. Shore excursions will encompass sampling local cuisines, shopping and traditional Indonesian massage.
For the more adventurous, Bintan Island is famous for its range of water and land activities including wake boarding, kayaking, seaplane flights, snorkelling and off-road ATV tours while nature lovers can visit the Safari Lagoi, ECO Farm or take a Mangrove Eco Tour.
For golf enthusiasts, Bintan Island offers a number of world-class golf courses designed by some of the game's most famous stars. Guests who prefer to explore Bintan Island on their own can also arrange a Free and Easy Expedition to discover the destination at their own pace with inclusive ferry service and coach transfers to and from Plaza Lagoi Bay in the Bintan Island Resorts area.
Sailing to Indonesia
Genting Cruise Lines continues to add cruise destinations across Indonesia with Dream Cruises, elevating popular destinations, such as Bintan Island into an international cruise destination for the region.
With over a 150,000 gross tonnage, Genting Dream is the first international cruise ship of this size to call on Bintan Island, opening new opportunities for further development of the various local tourism industries and concurrently stimulating the growth of the regional cruise tourism industry with fresh and innovative new offerings for vacationers of all ages.
As a part of the company's on-going and long-term commitment to Indonesia and the region, Genting Cruise Lines signed a Memorandum of Understanding (MOU) with PT. Bintan Resort Cakrawala to signify joint efforts in creating new opportunities for the local cruise tourism development in Bintan Island, on 7 July 2018
Genting Cruise Lines recognises the need for more adequate cruise infrastructure in this region and has actively taken the lead in the development to ensure a successful deployment. With Genting Cruise Lines' experience in cruise development works particularly in Indonesia, including recent calls to Medan and North Bali, Genting Cruise Lines is optimistic that similar success will be achieved with its deployment to Bintan Island.
"We remain highly committed in developing Indonesia's tourism industry"
"Indonesia continues to be a well-appreciated destination and key source market for the Genting Cruise Lines brands," said Thatcher Brown, president of Dream Cruises. "With Genting Dream sailing to numerous destinations in Indonesia, including Jakarta, Surabaya, North Bali and now Bintan Island, we remain highly committed in developing Indonesia's tourism industry, along with the regional cruise industry as a whole."
Bapak Dr Indroyono Soesilo, honorary advisor to tourism minister and chairperson, acceleration team for marine tourism development, ministry of tourism of the Republic of Indonesia, said "The regular arrival of Genting Dream cruise will definitely bring with it positive momentum to Bintan. The ship's regular visits carrying thousands of passengers will definitely contribute to Bintan's regional economy in addition to boosting the tourism image of the island."
"Make their stay in the islands convenient"
Bapak I Gede Ngurah Swajaya, Indonesia Ambassador to Singapore said, "The maiden voyage of Dream Cruises' Genting Dream from Singapore to Bintan is the beginning of a wider exposure of Bintan Islands as a world class tourism destination. Therefore, it is essential that Bintan should prepare itself to welcome more foreign tourists and make their stay in the islands convenient, enjoyable and memorable."
Eugene Park, group CEO, Gallant Venture Group said the billion dollar Genting Dream making regular calls at Lagoi, Bintan will usher in 3,000 to 5,000 international visitors to Bintan Resorts making it a lucrative opportunity for them.