HOMA Phuket Town introduces new co-living concept to APAC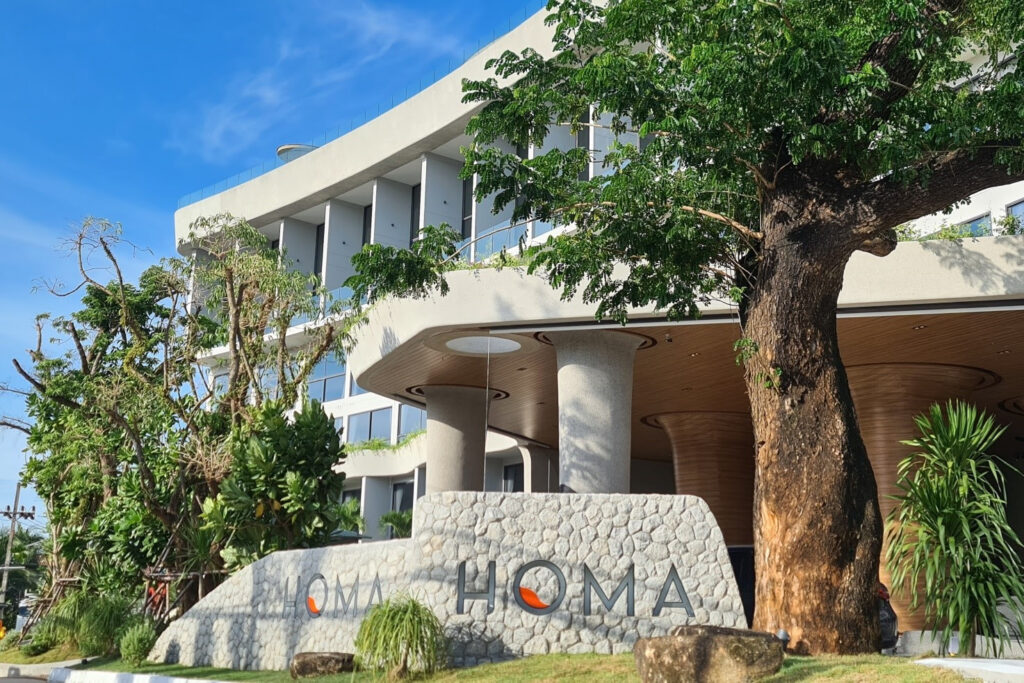 HOMA Phuket Town is a 505-unit community that blends the benefits of a serviced apartment with the facilities of a four-star hotel. Guests will be immersed in a community atmosphere with a friendly neighbourhood vibe and plenty of space for families and pets. Meanwhile, high-speed Wi-Fi and a co-working space allow executives and entrepreneurs to stay connected – ideal for the new generation of digital nomads who do not need to be tied to the office.
This intuitive fusion of homeliness and high-spec hospitality will make HOMA Phuket Town an outstanding new option for short- and long-term visitors alike. However many days, weeks or months they choose to stay, every guest will enjoy first-class facilities including a fitness centre, café and restaurant. Crowning the property is a spectacular rooftop deck and 80-metre infinity pool overlooking Phuket Town, which includes a 50-metre Olympic-size lap pool.
The fully-furnished studios, duplexes, one-, two- and three-bedroom residences are all spacious and finished with a fully equipped kitchen, high-end fixtures and fittings. Fully-equipped kitchens will enable everyone to make themselves at home, while housekeeping, laundry, "HOMA Host" concierge services and a 24-hour reception ensure complete convenience.
HOMA Phuket Town is also the perfect choice for medical tourists; under a partnership with Bangkok Dusit Medical Services (BDMS), one of Asia's most prestigious hospital networks, HOMA Phuket Town will work together with Bangkok Hospital Phuket, Bangkok Hospital Siriroj and Dibuk Hospital to offer personalised packages for patients. Professional medical services and consultations can be combined with specially adapted units, with elements such as handrails and wearable devices connected directly with the hospital, to aid rest and recuperation. This collaboration is set to enhance Phuket's already strong reputation as a regional hub for medical tourism.
Every guest can rest assured that their stay is not having a negative impact on the environment. This innovative property embraces sustainable solutions such as rooftop solar panels, water recycling, energy-efficient appliances, LED lighting and air quality monitoring systems. These practices will reduce greenhouse gas emissions by approximately 325 tonnes each year – the equivalent of planting almost 5,400 new trees or removing more than 70 cars from the road!
"I am delighted to announce the official opening of HOMA Phuket Town, our inaugural project, which introduces an innovative new style of living to Thailand's hospitality scene. By combining affordable, eco-friendly apartments with upscale amenities, we can successfully bridge the gap between home comforts and hotel facilities, while also creating a sense of community living. This pioneering concept will be ideally suited to the Asia Pacific, and Thailand especially, where travellers are increasingly demanding spaces to work, rest and relax for extended periods. We look forward to welcoming our first residents and allowing local and international guests to 'Live A Better Life' at HOMA Phuket Town," said Luca Dotti, founder and managing director at HOMA.
Nestled in a quiet enclave of Phuket Town, the property is strategically located in proximity of four hospitals, two universities, three primary international schools, and several shopping malls. The business plan consists of attracting local young professionals in the healthcare, education and retail sectors, in addition to long- and short-term travellers.
A joint venture between Asia Capital Real Estate (ACRE), the global real estate private equity firm, and NOON Capital, a Thai multi-family housing developer, HOMA has ambitious plans. The group is aiming to invest more than US$250 million (approx. THB 8.4 billion) in six new projects across Thailand. HOMA Phuket Town will soon be joined by another location in Phuket, HOMA Cherngtalay, and a project in Chonburi province called HOMA Si Racha. In the next five years, the group will continue to extend its collection of affordable and sustainable accommodation to even more markets in Thailand and across the Asia Pacific region.