Hong Kong comes alive this summer as HKTB launches ARTS IN HONG KONG, a year-long campaign to showcase the city's extraordinary and enduring appeal as an arts and cultural hub on a global stage.
The ARTS IN HONG KONG campaign will support international events, in-depth community arts, cultural tours, interactive art tech experiences, art fairs, new openings and much more in celebration of the city's incredible art scene. The programme launched in May, anchored by perennial stalwarts Art Basel and Christie's Hong Kong Spring Auctions, plus a supporting cast of innovative new events and venues such as Palace Museum, which will open 2nd July 2022, as well as M+, French May and Art Central.
HKTB executive director Mr Dane Cheng comments, "In-depth travel experiences have become a major global trend, and arts and culture are a key driver of this trend. The Hong Kong Tourism Board has organised an 'Art Month' promotion for the past nine years when international events were held in town to generate city-wide art vibes. As well as the staging of large-scale events, new world-class art landmarks such as M+ and the Hong Kong Palace Museum are also opening their doors, boosting Hong Kong's allure as an arts and cultural travel destination. As the city's arts scene becomes richer than ever, the HKTB will make 'Arts in Hong Kong' a year-round promotional platform to raise awareness of the city's always-on, diverse experience of arts and culture, and establish Hong Kong as an East-meets-West centre for international cultural exchange."
MAJOR NEW ART VENUES OPEN IN HONG KONG
Hong Kong Palace Museum & M+ | West Kowloon Cultural District
The Hong Kong Palace Museum (HKPM) has announced its opening on 2nd July 2022. It aspires to become one of the world's leading cultural institutions committed to the study and appreciation of Chinese art and culture, while advancing dialogue among world civilisations through international partnerships.
The opening exhibitions of HKPM will be jointly curated by the HKPM and the Palace Museum in Beijing. 914 pieces of priceless treasures from the Palace Museum will be put on display, with some pieces being shown in Hong Kong for the first time. The artefacts will be exhibited alongside more than 100 exhibits on loan from local museums and cultural institutions.
M+, Asia's first global museum of contemporary visual culture opened in late 2021, is a must visit destination for the international art enthusiast. Its building, designed by Herzog & de Meuron with TFP Farrells and Arup, is an iconic presence overlooking Victoria Harbour while the facade is embedded with LEDs for screening moving image works, which can be seen from the West Kowloon waterfront promenade and Hong Kong Island.
The North Roof Garden displays the M+ Playscape, a collaborative semi-permanent installation work with The Isamu Noguchi Foundation and Garden Museum, New York. The exhibition programme explores works in all mediums from moving image, design, and architecture projects. Current exhibitions include Hong Kong: Here and Beyond, Things, Spaces, Interactions, Antony Gormley: Asian Field and The Dream of the Museum.

ARTS IN NEIGHBOURHOODS: SUPPORTING LOCAL TALENT
As well as its programme of major international events, the HKTB's ARTS IN HONG KONG programme also aims to inspire residents and tourists to discover hidden gems of culture in neighbourhoods across the city, and experience incredible artworks off the beaten track.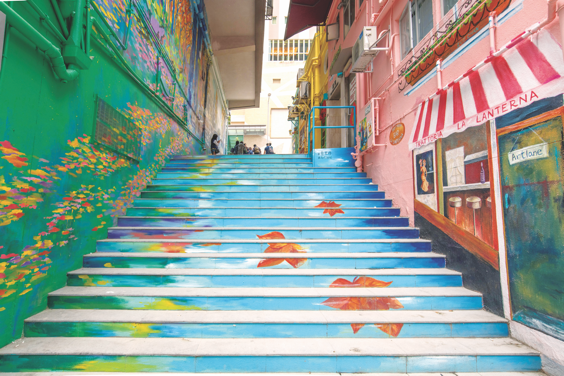 Explore Five Cultural Themes on the Streets of Hong Kong
Across Old Town Central, Sham Shui Po and West Kowloon more than 20 cultural discovery hot spots have been curated under five major themes: Architectural Expression, Innovating Traditions, Cultivating Creativity, Urban Street Art and Arts Above. The HKTB has created an interactive map with arts and cultural guides for every location. The map includes fascinating anecdotes, like the mystery behind the embroidery of Chinese wedding gown tailor Koon Nam Wah Bridal. It offers a chance to get to know the burgeoning Hong Kong cultural scene inside out.
Hong Kong: Where Art Meets Technology
Hong Kong is at the forefront of the growing impetus for the integration of arts and technology. Widely considered one of the world-leading destinations for the NFT trade the city is bringing international events online in new and innovative ways.
HKTB has supported and produced three videos of technological artistic spectacles currently taking place in Hong Kong, allowing visitors to re-watch the experience.
The first is French May Arts Festival's highlighted programme feature Intraverse, an interactive digital artwork by French artist, Ophelia Jacarini. The piece sees the artist's dance performance captured in the Metaverse using virtual reality technology. The interactive digital artwork will be shown in Hong Kong till the 30th of June 2022 and can be viewed here.
The second video features a moving image work by artist Ellen Pau entitled The Shape of Light – a joint presentation by Art Basel and M+. The Shape of Light intertwines live-action performance and spectacular sci-fi sequences, delivering an awe-inspiring animation on the M+ Façade until the 17th of July 2022. This site-specific work explores the possibilities of the immaterial and the material, transforming light into digital objects. Featuring a popular scripture in Buddhism, The Heart Sutra, it draws upon new connections between the sutra and the energies of Hong Kong. The Shape of Light meditates on the spiritual concept 'form is emptiness, emptiness is form', expressed through sign language and other ritualistic gestures. Natural phenomena like fire, water, and light are all rendered in striking computer-generated animation.
Hong Kong Museum of Art's (HKMoA) newest outdoor artwork installation, Resonance-In-Sight, co-created by local artists Kristof Crolla and Garvin Goepel explores the blurred boundaries between virtuality and reality. The piece invites members of the public to interact with the museum's collections through augmented reality (AR) technology.
The artwork comprises physical and virtual components. The physical component, the outdoor artwork installation Resonance-In-Sight, is finely constructed with two streamlined metal structures in the outdoor area of the museum. The virtual component is a tailor-made AR application, through which visitors can connect with a special selection of the HKMoA's four core collections (Chinese Antiquities, Chinese Painting and Calligraphy, China Trade Art, and Modern and Hong Kong Art) on their smartphone or tablet. Visisotrs can try to catch the birds in the painting Birds by 19th-century painter, Guan Lianchang, or admire a dynamic version of a landscape in Landscape after mi fu by Wu Changshuo of the Qing dynasty. They can also be a part of the ink painting Zhuangzi by Hong Kong ink painting master, Lui Shou-kwan. The old and the new coalesce through technological means in this unique artistic intervention, quintessential of the innovative cultural experiences Hong Kong has to offer.
From summer 2022 onwards, HKTB's ARTS IN HONG KONG initiative will light up the city with cultural features, major events and more spotlighting Hong Kong as one of the foremost destinations for amazing artistic and cultural experiences.