MakeMyTrip Ltd renews OYO partnership
Guest Writers are not employed, compensated or governed by TD, opinions and statements are from the specific writer directly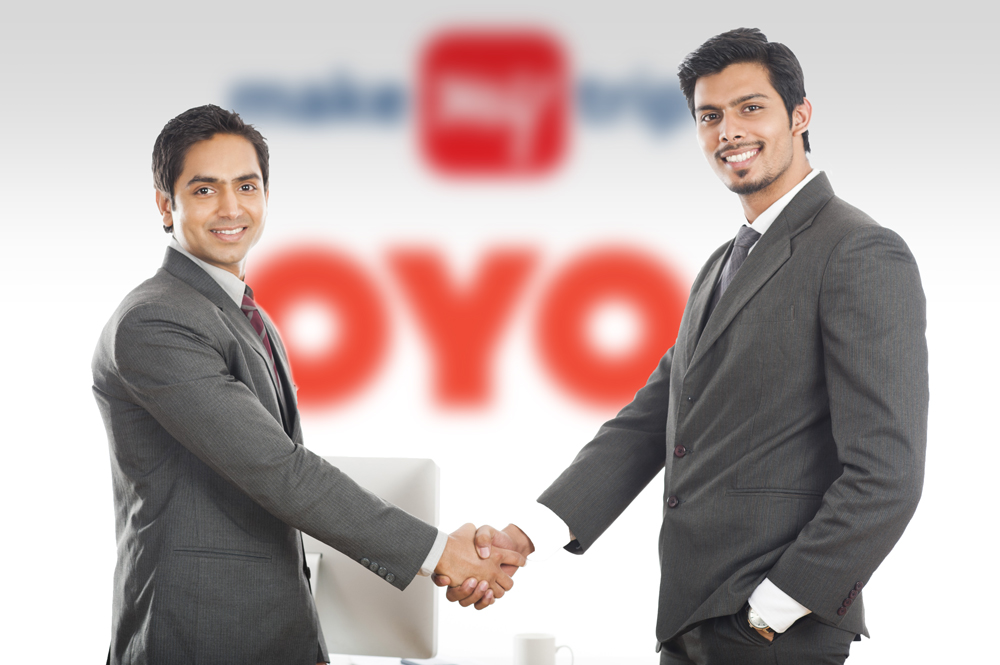 India's largest online travel services provider, MakeMyTrip Ltd, formally announced that it entered an agreement with award-winning budget hospitality company OYO. The agreement entails hosting the online hotel chain's economy, mid-segment and vacation rentals assets for booking through MakeMyTrip Ltd's OTA platforms MakeMyTrip and Goibibo.
This means MakeMyTrip and Goibibo customers can now choose from economy-mid market hotels, friendly next-door hotels and fully-managed homes in Goa, Pondicherry, Coorg, Udaipur, Nainital, Shimla and other leading tourist destinations. The announcement explained that prior to the agreement, travellers were originally forced to compromise on location, quality and price due to a supply-demand imbalance of living spaces that rendered the country's hospitality and real estate categories "broken."
It will be recalled that MakeMyTrip Ltd delisted SoftBank Group-backed OYO properties on its websites in late 2015 citing "quality issues" as the official reason, although numerous local media saw it as a defence of its market shares and margins in the lucrative hospitality industry.
In late 2017, MakeMyTrip Ltd chief financial officer Mohit Kabra told Techstory and TechCircle that the company was reconsidering its position on OYO, which it no longer saw as a direct competitor but as a key supplier due to its "shift towards hospitality." VCCircle attributed a similar statement to MakeMyTrip Ltd loyalty programme MMTBlack's founder and CEO Deep Kalra.
Today, its official announcement mentions the renewed partnership as a strategy to capitalise the rapid growth of India's travel sector, where travellers number in the billions. This is said to be prompted in part by a "massive surge" in the budget hotels category, which a YourStory report valued at around US$20 billion.
"We are excited to join hands with OYO and build synergies in the fragmented hotels segment to serve this very promising market. As the leader in online travel, we believe this partnership will help serve our customers by giving an even wider spread of quality hotels to choose from and drive growth in online hotel bookings," shared Ritwik Khare, MakeMyTrip Ltd chief business officer for hotel & accommodations in an official press statement.
"We are committed to bringing the best travel experience to our customers," added MakeMyTrip Ltd co-founder & India CEO Rajesh Magow. "It's why we offer them a variety of options across price segments, particularly in the fragmented value economy and mid-market categories, where there is a greater need to build assurance around the stay experience."
Mutual benefits in the heat of fierce competition
While OYO began operating as an aggregator service, it has taken care to brand itself as an OTA, even as Business Standard reported that it rivals OTAs in hotel nights sales. This identity is now an advantage, given that the company has recently entered the homestay segment with OYO Homes and has started offering the concierge service OYO Captains.
The YourStory report added that the start-up's newest property vertical, OYO Townhouse, would benefit from the renewed partnership the most through the visibility and reach it would grant. OYO Townhouse seeks to expand to over 275 properties across 12 cities by the end of this year. (OYO currently has over 70,000 exclusive rooms across 230 cities in India, Nepal, and Malaysia.)
OYO founder and CEO Ritesh Agarwal shared, "With OYO, we've created a brand that resonates with both our customers and hotel partners. Being a full-stack hospitality tech company, we have built capabilities to run quality-ensured accommodations across different formats and placed them in the hands of travellers who are constantly on the lookout for unique experiences."
"Our mission is to resolve the problem of quality in India's hospitality market by creating beautiful living spaces and offering varied experiences to millions of travellers," OYO chief strategy officer Maninder Gulati added."This partnership is a big step forward in that direction."
NASDAQ-listed MakeMyTrip Ltd, which has a market capitalisation of $2.75 billion, has had a history of partnerships and acquisitions. In what was considered one of the largest OTA consolidations of 2016, its merger with rival Ibibo Group allowed it to acquire the latter's portfolio frontrunners Goibibo and redBus.
But it seems this renewed partnership with OYO generated lukewarm reactions. India's Economic Times reported that MakeMyTrip Ltd shares remained largely flat during mid-morning trade after this announcement. What's more, MakeMyTrip Ltd competitor Yatra Online Inc also entered a partnership with OYO in Q4 2017.
Economic Times and YourStory added that the partnership pits MakeMyTrip Ltd and OYO in direct competition with Matrix Partners-backed Treebo. The budget hotel chain's owner and operator, Ruptub Solutions, originally cited MakeMyTrip Ltd's high commission charges as the reason it delisted all Treebo properties from MakeMyTrip and Goibibo.
Another player eager for a piece of the budget hotel action is RedDoorz, a dominant Southeast Asia player built by MakeMyTrip alumnus Amit Saberwal.