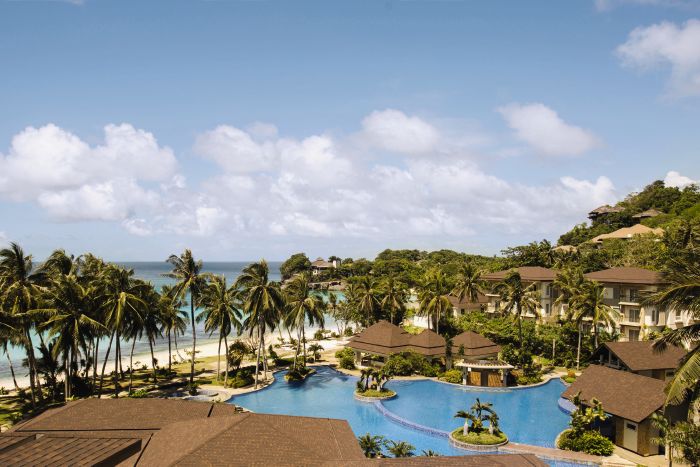 The Philippines' crown jewel, Boracay Island, has hit the headlines this past week after it formally reopened on 26 October following its six-month closure.
The government has imposed strict guidelines to access the island. Only those staying at compliant hotels – i.e. the ones that comply with various environmental standards – are allowed to visit Boracay. Mövenpick Boracay Resort & Spa is one of these 157 compliant hotels which reopened its doors to tourists, at the time of this writing — so I checked it out.
"I admire the President's political will to close the island, it takes someone brave to do that," Andre Brulhart, general manager of Mövenpick Boracay Resort & Spa, said. Andre took over the role last May at the heels of the closure and is excited to welcome guests.
For the two nights that I stayed at Mövenpick, I found a new appreciation for the little things in life and how to make each moment an unforgettable experience. Here's why Mövenpick Boracay Resort & Spa earned a loyal customer in me.
Impressive location
The resort is located in Punta Bunga Cove, which is usually 20 minutes from Cagban jetty port – but it took me an hour due to the current state of the roads on the island. I was pleased to know that Mövenpick is far from the dust and rubble in the town.
As an introvert, I am the type of person that wants some quiet time when travelling. Mövenpick Boracay had a private beach it shares with two other resorts. Unlike at the famous White Beach, described by many people as a "supermarket," I had the turquoise water of the island all for myself, especially in the morning.
The beach is complemented by the gardens surrounding the property. The lush flora and clear waters make every inch of the property a perfect backdrop for that Instagram photo. If the beach is not your thing, Mövenpick has this a multi-level pool measuring 35,521 square feet that sits in the heart of the resort.
"It's paradise," in the words of Grace Agatep, director of sales and marketing, Mövenpick Boracay. Andre who grew up in a small town of Farnborough near the Swiss Alps became a beach person after coming to Boracay.
Intimate meeting rooms
While Boracay is a famous location for beach weddings, Mövenpick Boracay boasts four modern breakout rooms that can each accommodate up to 24 people in theatre-style seating. The rooms are equipped with the latest facilities, including audio-visual technologies.
Do not think that just because you are on an island, you have to put up with a crappy internet connection. Surprisingly, there is a decent connection in Boracay. These MICE facilities are perfect for small groups that are trying to get some work done. However, with the resort's breathtaking views, I don't know how anyone gets any work done here.
A complete package
If you ever decided to do business here, as a fully-integrated resort, there is no fear of missing out. President Rodrigo Roa Duterte may have banned massage at the White Beach, but the resort houses its own spa. The Sagay Spa is a nod to the island's heritage and tradition. "Sagay" is a colloquial term for a type of native seashell that is finely crushed by the sea and found in the sand of Boracay.
To keep your fitness routine going (and for fitness obsessed that work out at 3 am) the fitness and wellness centre is open 24/7. Well, that's not me.  If I were you, you can sweat a few pounds simply by climbing the steep hill right at the entrance of the resort – which they fondly call "high ground".
The hotel also houses seven restaurants, one of which has become my favourite places to eat – Brezza. I met Chef Francesco Leone who considers himself an ambassador of Italian cuisine and whose life's work and mission is to introduce authentic Italian dishes, some of which are hand-me-down recipes from his mama and nonna. Even now, I am dreaming of Chef Francesco's mushroom risotto and tiramisu.
Human touch
The hospitality industry is hot about the integration of artificial intelligence, robotics, and other technologies in hotels, but Mövenpick Boracay capitalises on its most significant asset – people.
"We are in the people's business and nothing can ever replace human touch," Andre told me. Andre knew that excellent service keeps bringing the customers back by working at a family restaurant when he was young. His aunt revealed to him that some of their loyal diners come to the restaurant only when Andre is working. He brought this important work ethic in all the hotels he managed for the past 20 years.
As a matter of fact, during our interview, he carefully observes the guests that walk near where we sit and orders the staff to give them complimentary drinks.
"It was nice to feel pampered, for a change."
Meanwhile, the cheerful staff ensures that you are well taken care of from the moment you land in Caticlan airport until you are back in the departure area. Believe me when I say that there is someone checking on me, attending to my every need every five minutes when I'm roaming the resort – and as a fully grown, independent woman, I am not used to this. It was nice to feel pampered, for a change.
I visited the island on the first day of Boracay's reopening and I asked Andre what people can expect from Mövenpick Boracay, and he rightly pointed out, the Christmas season. Andre, who is a devout Catholic and backed with more than 20 years of experience managing hotels, is cooking something special for his first Christmas as general manager of Mövenpick Boracay.
"I am not as crazy as the Filipinos who put up Christmas décor as early as September, but I can assure you that Christmas is my thing – because we do ordinary things in extraordinary ways," Andre excitedly shared but zipped his mouth before he can give out more details. My stay in Mövenpick Boracay is filled with extraordinary moments that may look simple to others, and I hope to go back for more.