New Year festival at The Kelpies to kickstart Scotland's Year of Coasts and Waters 2020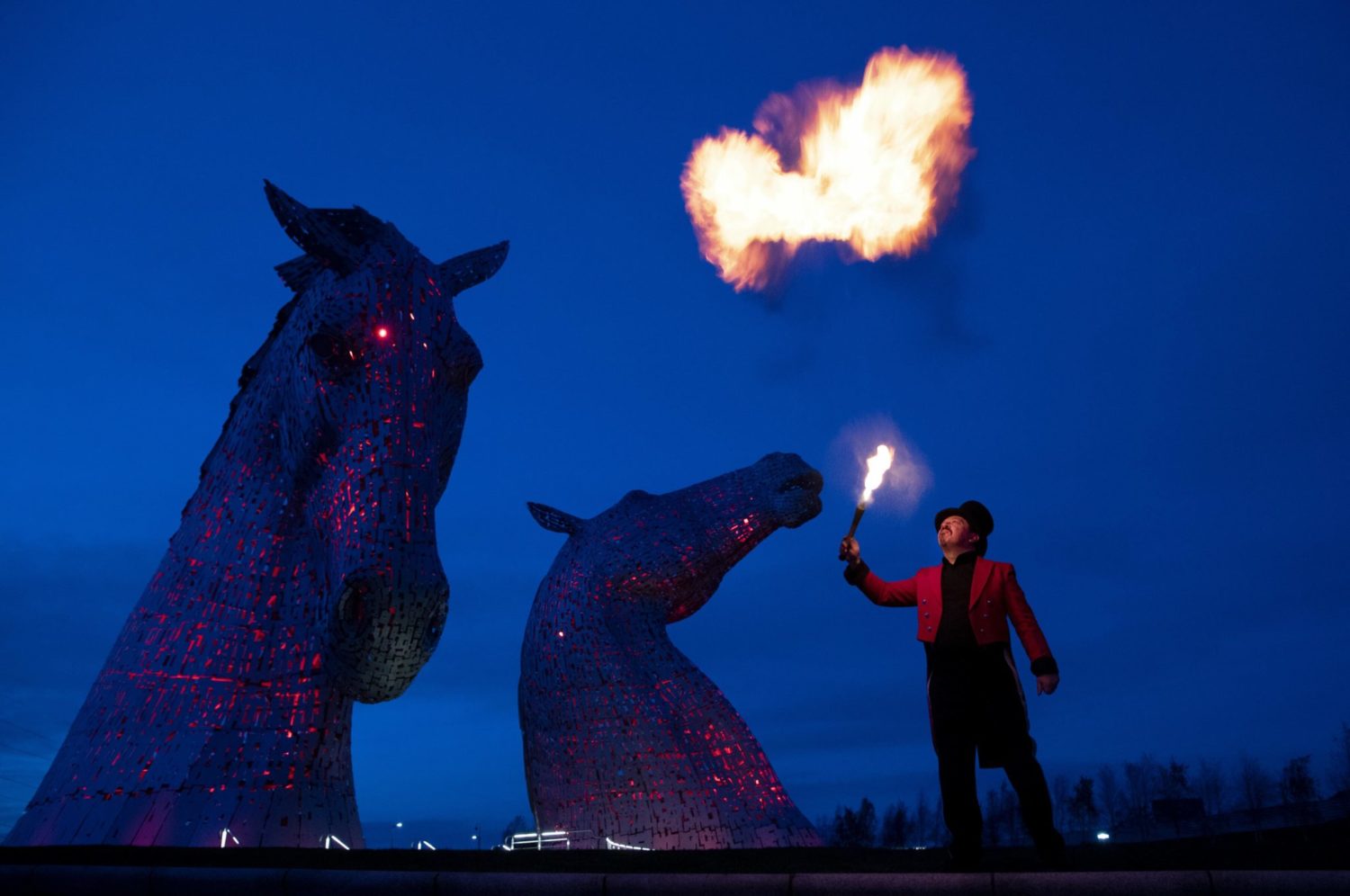 The Helix, home of The Kelpies, is preparing to welcome thousands of people to its new year festival Fire & Light: 2020 Visions on 1-2 January. Produced by Jaggy Events with support from Falkirk Community Trust and Event Scotland's Winter Festivals fund, 2020's Fire & Light will bring a fusion of past, present and future to Falkirk as part of Visit Scotland's Year of Coasts & Waters.
The fifth event of its kind, the 2020 Visions show will feature some of Scotland's best theatre, fire and LED performers, including the world-famous Mugenkyo Taiko Drummers who will perform a heart-thumping performance in front of The Kelpies and PyroCeltica, Scotland's trailblazing fire act.
The event encourages visitors to embrace the adventure of a new year with a walk through The Helix park towards the magical Kelpies, interacting with an amazing array of performances and installations along the way.
Once visitors reach The Kelpies, they can stop and enjoy the fire jets that will be choreographed to the powerful Taiko Drummers performance of 'Rhythm of Light'.  When the drumming stops, an LED clad musician will perform on a spectacular laser harp, celebrating the iconic waterways of Falkirk. The event will also be one of the first set to welcome in Scotland's celebratory Year of Coasts and Waters 2020.
Maureen Campbell, chief executive of Falkirk Community Trust, organiser of Fire & Light: 2020 Visions said: "This event is returning as one of Event Scotland's Winter Festivals and this continues to support Falkirk as an all year round must visit destination."
Paul Bush OBE, director of events at VisitScotland said: "We are supporting Fire & Light in its fifth year through Scotland's Winter Festivals programme.  As one of the first events to celebrate Scotland's Year of Coasts and Waters 2020, the innovative programme of activity planned for Fire & Light 2020 Vision further reinforces Scotland as the perfect stage for events."