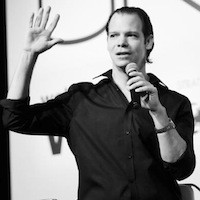 Brett Henry
Jakarta, Indonesia
Full Name:
Brett Henry
Nationality:
American
Languages:
English
Location:
Jakarta, Indonesia
---
About Brett Henry
Brett Henry is a travel tech industry leader and a seed stage, angel investor. He brings a strong travel, travel tech, and VC/start-up executive network combined with 20 years of B2B travel technology industry experience across disciplines including product marketing, business development, strategy, planning and sales.
He thrives on opportunities to lead dynamic and diverse teams working on customer focused, innovative, growth opportunities.
He is a speaker at travel technology events globally including Digital Travel Summit, Aviation Summit, Webintravel, EyeforTravel, China Travel Distribution Summit, as well as speaking at industry regional and global events.
President Director
Feb 2019 - Present • 4 years
President Director
---
CEO
Oct 2017 - Jan 2019 • 1 year 3 months
A fast-growing community dedicated to informing, connecting and developing the worlds travel professionals. Next-gen digital and data marketers who help connect brands to the travel trade and end travellers across global markets using the best of all online and offline platforms.
---
Deal Maker
Sep 2016 - Present • 6 years 5 months
CONNECTING START-UPS AND ESTABLISHED FIRMS WITH INVESTORS AND SPECIALISTS GLOBALLY
---
General Member
Oct 2014 - Present • 8 years 4 months
We help our members identify and invest in compelling early-stage businesses in China. We also provide a venue for entrepreneurs to raise early-stage capital from accredited angel investors. Entrepreneurs typically seek to raise between USD $100K to $500K, and can enjoy the benefits of continued interaction and mentorship by our angel investors. AngelVest has grown to be the leading organized angel investment group in China, with presence mainly in Shanghai, Beijing, Hong Kong and Singapore.
---
Vice President Sales
Oct 2010 - Apr 2016 • 5 years 7 months
Commercial owner of 31 markets in Asia Pacific. Exceeded targets every year - delivered record revenue years to company each consecutive year. Turned India market from negative growth into highest growth market – 50% YoY growth Turned Sabre Pacific from losing millions to making millions in less than 12 months.
---
STAY UPDATED WITH THE LATEST TRAVEL NEWS, JOBS & EVENTS!
Join over 180,000 travel agents, professionals and executives subscribed to our daily newsletter.
You can unsubscribe at any time