Pursue happiness the Bhutanese way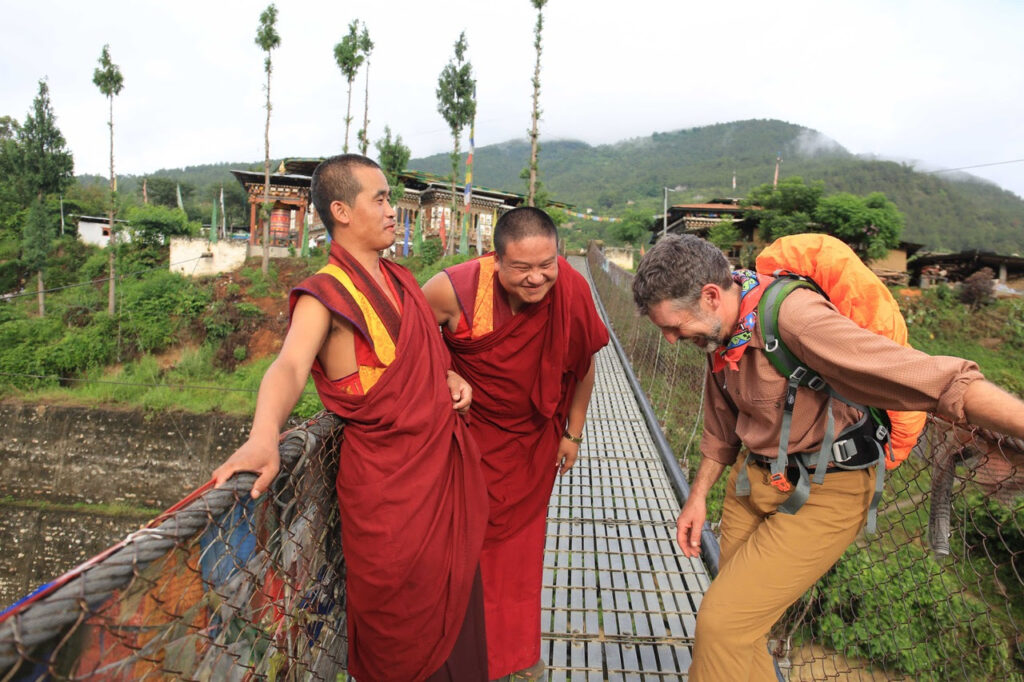 Internationally renowned for its pursuit of Gross National Happiness, the tiny Himalayan nation of Bhutan will soon reopen the fully-restored Trans Bhutan Trail, just as the world celebrates International Day of Happiness on 20 March 2022. Bhutan, the world's first carbon-negative country, now welcomes citizens and international travellers alike to explore its rich culture and heritage in an authentic and sustainable way by trekking the Trail.
The Notion of Gross National Happiness
Nestled between India and China in the mighty Himalayas, Bhutan is home to just 750,000 people living in its 38,000 square kilometres of land. But yet this small nation is world-leading in terms of its peace and its serenity. Bhutan aspires to be one of the happiest countries on earth, thanks to its policies of Gross National Happiness (GNH), by which the primacy of national happiness is emphasized over more traditional markers of economic performance. GNH was first promulgated several decades ago by His Majesty the Fourth King of Bhutan, who strongly believed that the happiness of his people was a strong indicator of progressive development. GNH is a more holistic approach to measuring Bhutan's development and strongly suggests that the development of society thrives best when material aspects are balanced with the non-material.
According to Kent Schroeder, Executive Director of the Bhutan Canada Foundation, the organization which led the restoration of the Trans Bhutan Trail in partnership with the Royal Government of Bhutan: "Gross National Happiness is all about creating the enabling conditions for people to choose happiness. Such conditions refer to available policies and programs that ensure people can be educated, enjoy access to healthcare, have meaningful employment, live within a flourishing environment and preserved culture, have an effective and transparent government, and more."
Restoring the Trans Bhutan Trail
For hundreds of years, the historic Trans Bhutan Trail was the only way for pilgrims, messengers, armies, and traders to travel and communicate across the country. It crosses nine Dzongkhags (districts), 28 gewogs (village blocks), two municipalities and one national park.
With the vision of his Majesty the Fifth King and the support of the Tourism Council of Bhutan, the Bhutan Canada Foundation led efforts to restore the 250-mile Trans Bhutan Trail, making it accessible for the first time in over 60 years. More than 900 local workers were deployed during the pandemic to work on the ancient route, rebuilding 18 major bridges, 10,000 stairs and 250 miles of trail.
The restoration of the Trans Bhutan Trail strongly echoes the four pillars of GNH: Good Governance, Sustainable Socio-Economic Development, Preservation and Promotion of Culture, and Environmental Conservation. This community-based project has created new socio-economic opportunities locally, contributing significantly towards the sustainable livelihoods of communities residing along the Trail—and with 400 historic and culturally significant sites identified, the Trail plays a major role in preserving culture through connecting generations as a living experiential classroom to share centuries' worth of knowledge, stories, and history. It also protects the country's delicate ecosystems, encouraging clean water, fresh air and diverse flora and fauna across Bhutan.
Sam Blyth, Chair of the Bhutan Canada Foundation and lead donor to the Trail says: "Trans Bhutan Trail is committed to enhancing this ancient route out of respect to the ancestors, as a gift to Bhutan, and with a vision to enrich the lives of future generations. It complements Bhutan's guiding GNH principles insofar as it allows people across Bhutan to rediscover their history, engage with nature, understand ecosystems, enjoy good physical and mental health, engage in local economic development, and reconnect with other local communities."
Exceptional Trekking Experiences
From April 2022, a limited number of permits will be issued to international travellers, inviting them to walk, run, or mountain bike one of the world's most beautiful, culturally rich and least explored trails for the first time in 60 years. Steeped in heritage and uniquely Bhutanese, the Trans Bhutan Trail gives travellers ample opportunity to learn more about Bhutan's unique GNH approach to development as well as to experience an authentic piece of happiness the Bhutanese way.
More than half of Bhutan's territory, including many sections of the Trans Bhutan Trail, are designated as protected areas and biological corridors. The Trail meanders through pristine virgin forests, offering panoramic views of soaring Himalayan peaks and exclusive access to many parts of Bhutan seldom visited by foreigners—truly the perfect antidote for those travellers experiencing pandemic fatigue or burnout. It offers a purposeful way for travellers to reconnect with nature and to take time for meditation and self-reflection.
Trans Bhutan Trail can arrange all aspects of guided walking and biking on the trail on a not-for-profit basis, with all proceeds to be reinvested into Trail sustainability, education and community projects. Each international guest will receive a one-year free Trans Bhutan Trail membership, as well as having a tree planted on their behalf. As a spiritual nation, the Trail welcomes both Buddhists and non-Buddhists alike with specially created itineraries that encourage reconnection with the country's sacred and religious heritage.