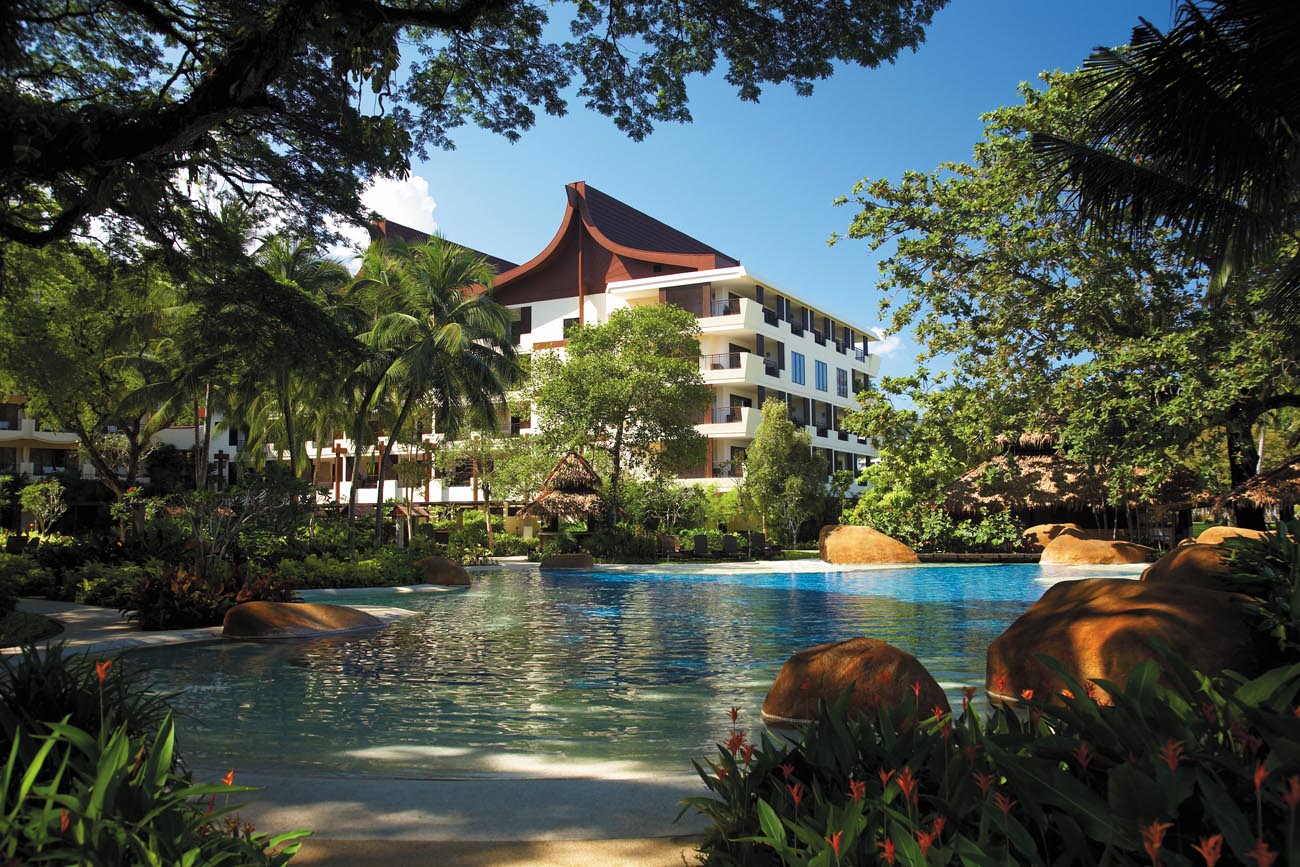 Nestled within an expansive acreage, beneath the canopy of century-old rain trees, Rasa Sayang Resort & Spa is a secluded luxury resort in Penang, Malaysia. It's an ideal setting for those wanting a relaxed and airy holiday, and those seeking a stylish setting for social events and corporate outings.
The Rasa Sayang Resort & Spa is a great starting point for morning walks into the National Park, which is conveniently located behind the hotel grounds. Within the premises of the resort, guests can enjoy an incredible lookout over the sea, a game of golf, or take a boat ride around the property, traversing the island's shoreline.
Rooms and suites
Rasa Sayang Resort & Spa features 304 guest rooms and suites in two distinctive wings, the Garden Wing and the Rasa Wing. Furnished in traditional Minangkabau style, a nod to the heritage of Malaysia, its interiors include delicately carved fixtures and colourful fabrics with modern touches.
The wings boast natural floor tiles, marble-floor bathrooms, king-sized beds, and private balconies facing the Andaman Sea – all Rasa Premier rooms in the Rasa Wing actually feature a bathtub on the balcony. While being a secluded retreat, it provides ample space with a richly decorated floor plan.
Food and beverage
From Penang's heritage cuisine to global gastronomy, Rasa Sayang Resort & Spa presents an array of dining options.
Highlights of the resort include the Feringgi Grill, providing views of rain trees and beyond; the Feringgi Bar, an ideal chill spot for enjoying apéritifs and digestifs; Pinang Restaurant and Bar, which is best for sunsets; Spice Market Café, an informal a la carte and buffet-style restaurant.
FIP (Fun, Interactive and Play), designed for quirky signature dishes such as such as tic-tac-toe macarons and beer in a solid ice mug.
Rasa Sayang Resort & Spa
Rasa Sayang Resort & Spa is 45 minutes by car from the Penang International Airport.
From the resort, Georgetown is only 30 minutes away; a colonial town that retains its romantic feel and character, but nowadays, has a modern creative vibe and happening coffee culture. It's also home to independent bars and cheap street food eats, nestled among the high-end restaurants.
For more information about Rasa Sayang Resort & Spa, visit the official website.