Start-up led by 'wonder twins' keeps vacation rental managers in touch with guests
Contributors are not employed, compensated or governed by TD, opinions and statements are from the contributor directly
Many businesses swear by this: the best way to gain a client is to form a relationship with them, and the best way to form a relationship is through constant communication. But if you're a vacation rental manager handling anywhere between five to more than 500 properties, how do you keep correspondence with guests organised and timely while keeping a life outside of work?
Twin brothers and former short-term rental hosts Amiad and Koby Soto shared the same frustration. In a case of synchronised thought, they realised the need for a central, all-in-one technological solution to manage and automate all logistics. The result is Guesty, a cloud-based platform which combines operations, accounting, marketing, staff management and 24/7 guest communications functions for multiple accounts spread across vacation rental (VR) booking channels.
Founded in 2013 and – like VR disruptor Airbnb – a graduate of the YCombinator start-up accelerator programme, Guesty has the backing of Magma Venture Partners, Buran Venture Capital, and AltaIR Capital. The platform, the Israel-based Soto brothers assert, has more features beyond what can be found in other property management software (PMS).
Amiad, who functions as the start-up's CEO and spokesperson explained via interview: "One of Guesty's key differentiators is its Automation Tools, allowing unlimited triggers for automation options. It also provides a Unified Inbox which can both push & pull messages from the Airbnb messaging platform, which other PMS are not capable of."
"In addition to these features, our platform contains payment processing, dynamic pricing, booking website creation, reporting, and channel management tools," he added. "Guesty also has direct integration with VR and OTA sites; we are about to announce direct integration with Agoda, one of the world's fastest-growing online accommodation booking platforms."
When talk means business
The twins recently checked in with 1,900 non-clients in the short-term rental business to see what they needed help with. The infographic to the left shows insights from VR managers handling anywhere between 5 to more than 500 properties.
The study reveals that VR managers recognise the importance of connecting with guests when closing bookings, maximising occupancy rates, and increasing revenues. They admitted that the hardest but most vital factor to improve would be timeliness in responses, especially for enquiries, an observation Amiad agrees with.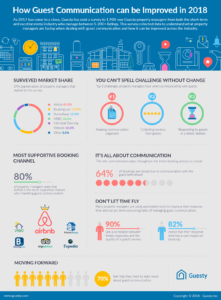 "Many property managers underestimate the time and effort required to manage guest communication. When we first started Guesty, we heard from tons of property managers how overwhelmed they were with the number of messages they had to handle, leaving their business stagnant instead of scaling," explained Amiad.
"We are surprised to hear that property managers are still manually responding to each guest message. And it only gets harder to manage as you continue to manage more properties! Key points in communication, like review requests, payment reminders and check-in/check-out instructions, can be easily automated in a personal and hospitable way. Using smart PMS with automation tools, like Guesty, is a no-brainer for property managers as it frees up much of their time to focus on their business goals while still providing their guests with great service."
David Malka of Better Vacations, a client based in Las Vegas, shared his experience: "Guesty gave us the ability to delegate our communication. The fact that we are now able to send automated email and text messages to staff notifying them of new confirmations, modifications and cancellations is huge – not just in saving time, but also in efficiency. This freed up time to focus on generating more business and revenue."
Guesty demonstrates its understanding of communication in this short promotional video:
Be our guest
Given the above video and their positive outlook on the VR market (see standout quote), the Soto brothers are surprisingly pragmatic about their start-up's future. Amiad shared that they are looking out for consolidation in the travel tech space: "Only strong and solid travel tech companies will come out on top. We would like to see which other travel tech companies will stay on top and what changes will take place due to consolidation."
"In the meantime, we are working to complete the Guesty expansion to the VR market by developing further state-of-the-art features that help VR businesses grow," he added. "We are also focusing on customer needs in order to bring value to our users by developing features that best fit their requests."
There is a tremendous growth in the size of this market. Several market research teams clearly point out that there is a 7% growth every year in this industry. Travellers continue to choose short-term rentals over hotels, which is causing the entire ecosystem to grow.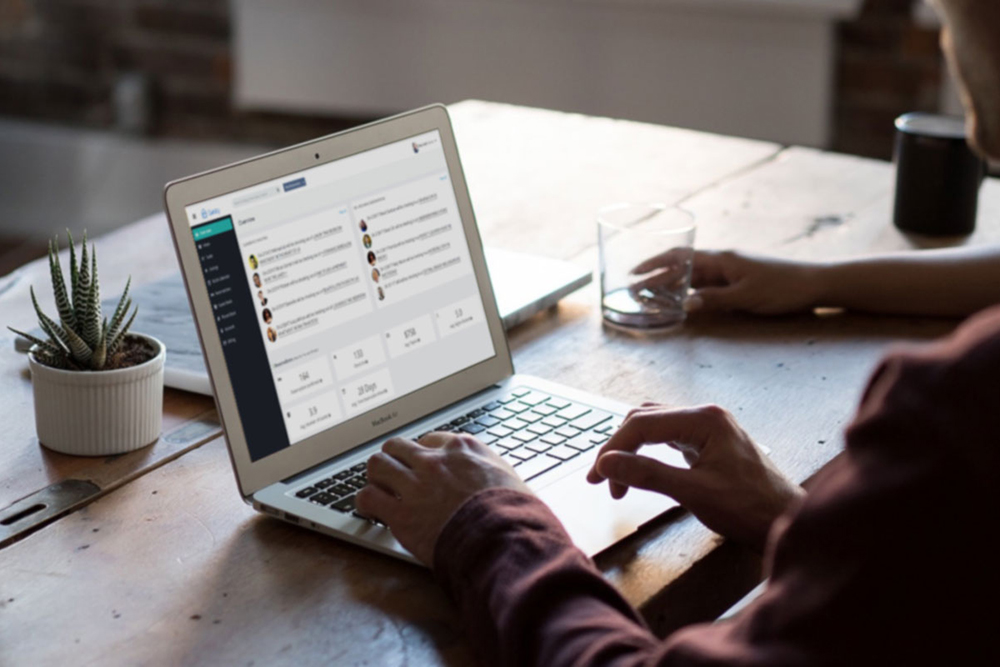 For now, Guesty will take its victories where it can, such as its recent transition from being the PMS of choice for the short-term urban rental market, towards growing its global VR market share.
"Updating our product to fit the VR market and moving beyond being just an 'Airbnb PMS' are only the beginning," Amiad shared. "We are excited by any travel tech that is able to integrate whichever feature that can further enhance a guest experience, from key exchange applications to dynamic pricing, into our platform."