Top 5 reasons why an Avalon Waterways river cruise should be your next holiday
Book an Avalon Waterways river cruise and tour some of the most majestic rivers in the world on your next holiday. River cruising enables travellers to see the world from a new perspective; from the comfort of their own suite or cabin.
With Avalon Waterways, guests can choose their own adventures while experiencing all the relaxed luxury river cruising has to offer: decadent delicacies prepared fresh by our onboard chefs, complimentary Wi-Fi to keep you connected, and only having to unpack your bags once, giving you the freedom to indulge more.
Here are the top five reasons why you should board an Avalon Waterways river cruise on your next holiday.
Ease of travel
Travelling made easy! In an Avalon Waterways river cruise, embark on a luxurious ship, unpack just once and discover new and exciting ports each day. Avalon Waterways has mastered the art of blending luxury with comfort, and now – blurring the line between outside and in. Beds facing the huge windows offer guests unparalleled views of the waterways and destinations. The Panorama Suites are 30% larger than the industry standard and the wall-to-wall and floor-to-ceiling windows are an open invitation to discover and dream.
Avalon Waterways believe that it is the small details that make a big difference. If you are not off exploring the new destination, you are treated like royalty on board. You deserve the best of everything when you're on holiday, including what you need to maintain your healthy lifestyle. On our ships, you'll enjoy a state-of-the-art fitness centre, free bicycles for use in select ports, and a bubbling whirlpool on the Sky Deck awaiting your return.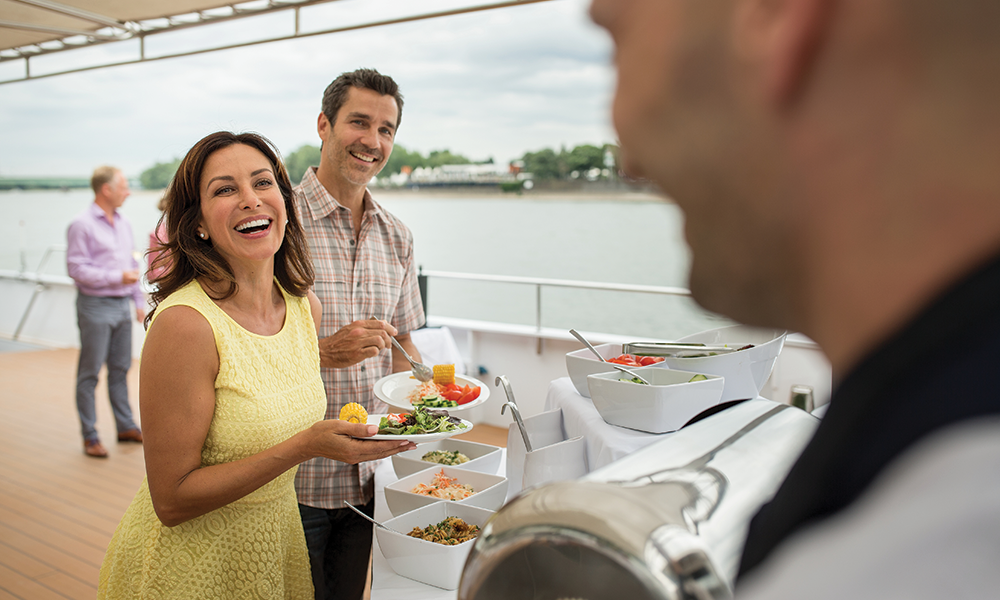 Delight your taste buds
A dish often tells embedded cultural secrets of a place that you might not have known. Experience a destination through its cuisine with expertly crafted meals inspired by the region while travelling on an Avalon Waterways river cruise.
From sumptuous breakfasts to elegant dinners, Avalon continues to delight your taste buds. Using the freshest local ingredients, the talented chefs prepare mouthwatering recipes from the region you're travelling to and present them in various inspiring settings.
Couple this with Avalon's FlexDining® where guests can freely choose where and when they want to dine. Choose the onboard dining venue that suits your mood – from a breezy al fresco lunch at the Sky Grill to an elegant four-course dinner in the glass-walled dining room.
Avalon Choice
Every type of traveller is welcome to join an Avalon Waterways river cruise. Whether you want to enjoy a guided walking tour of one of Europe's great cities, join a cooking class or paddle a canoe, our Avalon Choice℠ selections of Classic, Discovery and Active excursions offer a wide range of possibilities that suit your preference or mood.
If you prefer to explore a destination on your own, get all the information and gear you need with Avalon's new Adventure Centre and AvalonGO Mobile App. AvalonGO keeps you informed and on course before and during your cruise. Personalised for you approximately 30 days before your departure, the AvalonGO app is free to download and delivers your daily schedules, transfer details, daily itineraries, and GPS maps right to your phone.
AvalonGO also gives expert recommendations for the best local cafes, wine bars, and entertainment options — to name a few. Explore with confidence with AvalonGO directions for the freedom to wander wherever you are. Post photos and comments to share with social media friends via real-time posts.
Safety and security
Board an Avalon Waterways river cruise with peace of mind. Enjoy the safety & security of travelling with a group and expert Cruise Directors and crew to assist you with local knowledge and advice. Avalon has strict Health & Safety measures to ensure your health and happiness.
No matter where you travel, our global network of travel experts has got you covered! Yes! You're Covered is a thoughtfully designed program designed to shield travellers from the worries and hassles that might make aspiring globetrotters hesitate when taking that first step in discovering dream destinations once again. With exceptional health and safety protocols and on-trip contingency plans for unexpected surprises, Avalon Waterways travellers see more of the world with more peace of mind. This includes:
On-trip tests – Avalon schedule and arrange all necessary on-trip COVID-19 tests, Avalon Waterways also pays for return-home tests.
Be vaccinated – Avalon has extended our vaccination policy to ensure its staff, crew and guests are all vaccinated against COVID-19, worldwide, through 2022.
SafetyNet Travel Protection – gives you greater flexibility over your booking including a 'cancel for any reason' benefit.
Plan "See" – Avalon Waterways enjoys a long history of doing what's right for travellers – ensuring that their holiday is not compromised. On those rare occasions when closures or barriers roll in and threaten holidays, we provide a Plan "See" to ensure its guests have options to continue to enjoy their journey. Moreover, guests are always in the care of our operations team while at their destination.
Peace of Mind Plan – In addition to countless on-trip assurances, Avalon's Peace of Mind Plan invites travellers to sunset their original holiday plans and move their trip without penalty.
Incredible discounts
Joining an Avalon Waterways river cruise gives a bang for your buck while creating truly unique holidays. With so many fascinating rivers to explore, your choice is easy with a range of offers available. Enjoy a river cruise with savings of up to 50% off on 2022 sailings. Speak to your local Avalon Waterways representative for more information.