Sydney-based travel company Vacaay officially launched in February, just as the effects of the coronavirus outbreak were starting to take hold.
Despite the uncertainty clouding the industry, consumers have flocked to Vacaay's fun and innovative travel discovery platform to plan their holidays in advance, with the company acquiring a staggering 100,000 new users in its first 30 days (source: Google Analytics).
Vacaay's user-friendly mobile app and responsive travel media platform is the first of its kind in the travel sector, delivering curated travel content like never before. Vacaay enables travellers to explore thousands of beautiful destinations around the world with a simple swipe of their smartphone, helping them discover amazing places they may never have otherwise considered visiting.
The exciting new platform is proving extremely popular, particularly among its target audience of 25-45-year-old tech-savvy travellers, with users exploring more than 75,000 destinations in a single day.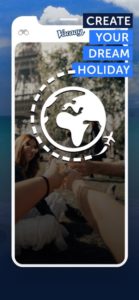 "We're providing consumers with travel inspiration and giving them something to look forward to during this difficult period by helping plan their next holiday," said co-founder & CEO, Pete McKeon. "Whilst many consumers are putting immediate travel plans on hold, they're still planning holidays in anticipation of travel restrictions being lifted later in the year".
With airlines grounding their fleets, hotel vacancies at all-time highs and governments around the globe pulling tourism budgets, international travel has ground to a halt.
"The industry as a whole is hurting, but travel bookings are inevitable once the outbreak is contained. Many of these bookings will be inspired by content users discovered on Vacaay", explains McKeon. "Tourism boards, hotels and airlines are going to need to utilise new channels to get the industry moving again, and Vacaay provides the opportunity to reach new audiences and acquire new customers".
Head to Vacaay website to learn more about this new travel app.