airasia acquires Gojek's Thai operations to become leading tech giant in the region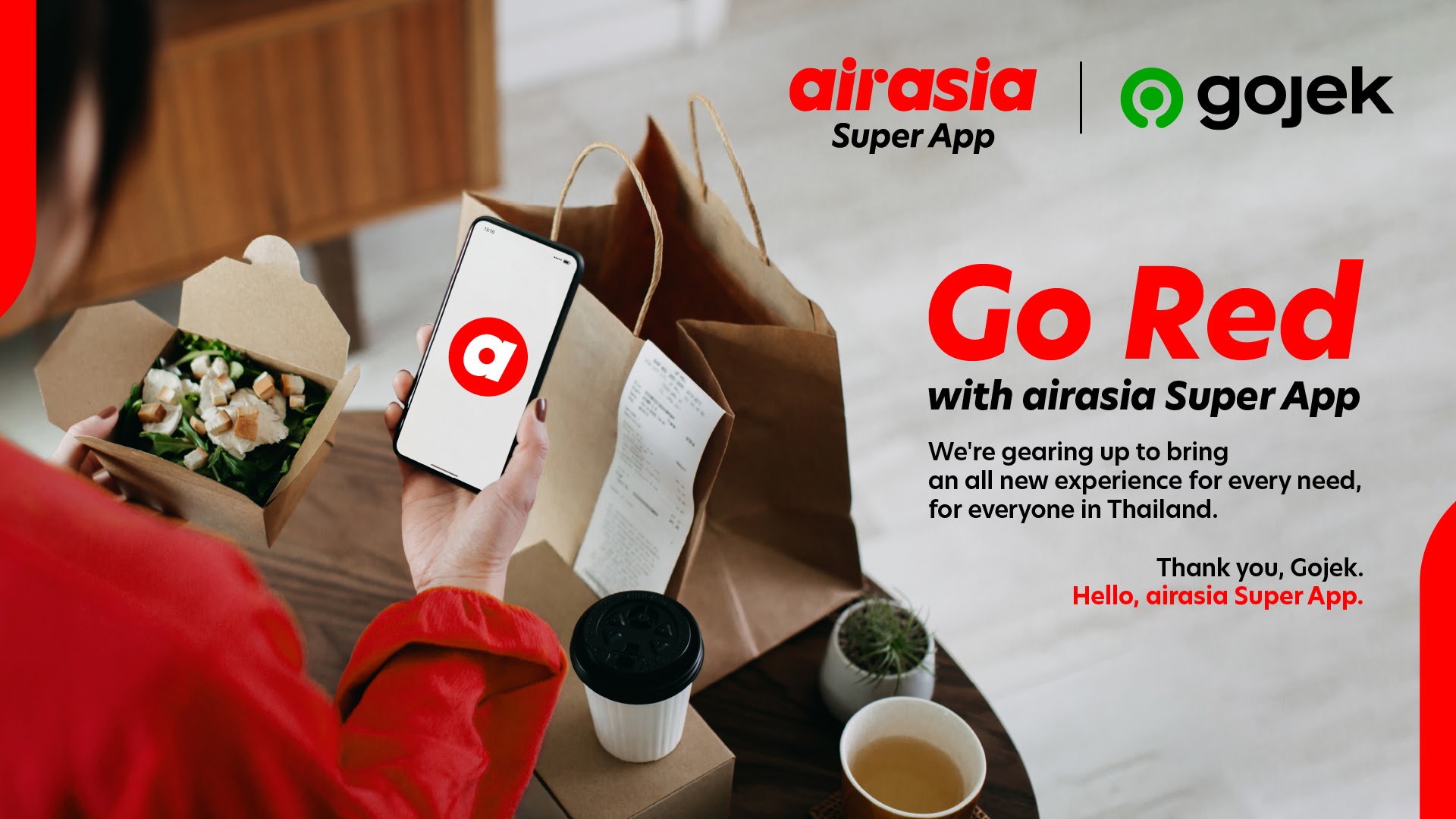 airasia Digital, the digital arm of airasia Group and Gojek, Southeast Asia's leading mobile on-demand services and payments platform, today revealed a partnership whereby airasia Digital will acquire Gojek's operations in Thailand. This win-win deal is expected to rev up expansion of the airasia Super App in Asean, while enabling Gojek to increase investments in its Vietnam and Singapore operations.
In return, Gojek will receive shareholding in the airasia Super App whose market value is around USD1 billion. The deal provides both parties with a strong foundation to explore additional opportunities for collaboration and synergies in one of the fastest-growing regions in the world.
As part of its commitment to Thailand, the airasia Super App aims to continue to leverage the existing ecosystem services for riders, merchants and customers while adding new offerings, such as groceries and beauty items. It will seek regional expansion into new markets like Chiang Mai and Phuket in the near future.
The Gojek app will continue to operate for existing users in Bangkok through to 31 July 2021 to ensure stability for Gojek drivers and merchants – who will be invited to onboard the airasia Super App in coming weeks. airasia will work with the existing Gojek team in Thailand, who will operate the Gojek business during the transition period before moving over to the airasia super app, bringing local market expertise and a deep understanding of Thai user needs to the business.
At the same time, in a realignment of its international strategy, Gojek is increasing investment in its Vietnam and Singapore operations, having identified these markets as strong sources of growth for the business going forward. This includes increased driver and merchant acquisition initiatives, enhancements to user experience as well as launching new products and services.
airasia Group CEO Tony Fernandes said: "Today's announcement is the start of a tremendous long term strategic partnership with Gojek which is sure to rock the industry. By taking on Gojek's well-established Thai business, we'll be able to turbo charge our ambitions in this space to become a leading Asean challenger super app. We already have a complete digital economy ecosystem. We have successfully established over 15 different non airline products and lifestyle services on our digital e-commerce platform in Malaysia. Now it's time to take it to the next level. In response to overwhelming regional demand, we are setting our sights on bringing our Super App offerings to all of our key markets, following the successful roll out in Thailand."
Gojek CEO Kevin Aluwi, said: "This deal is a testament to the accomplishments of our team in Thailand, who grew the business from nothing to an on-demand service provider that has made a difference to hundreds of thousands of people throughout the country."