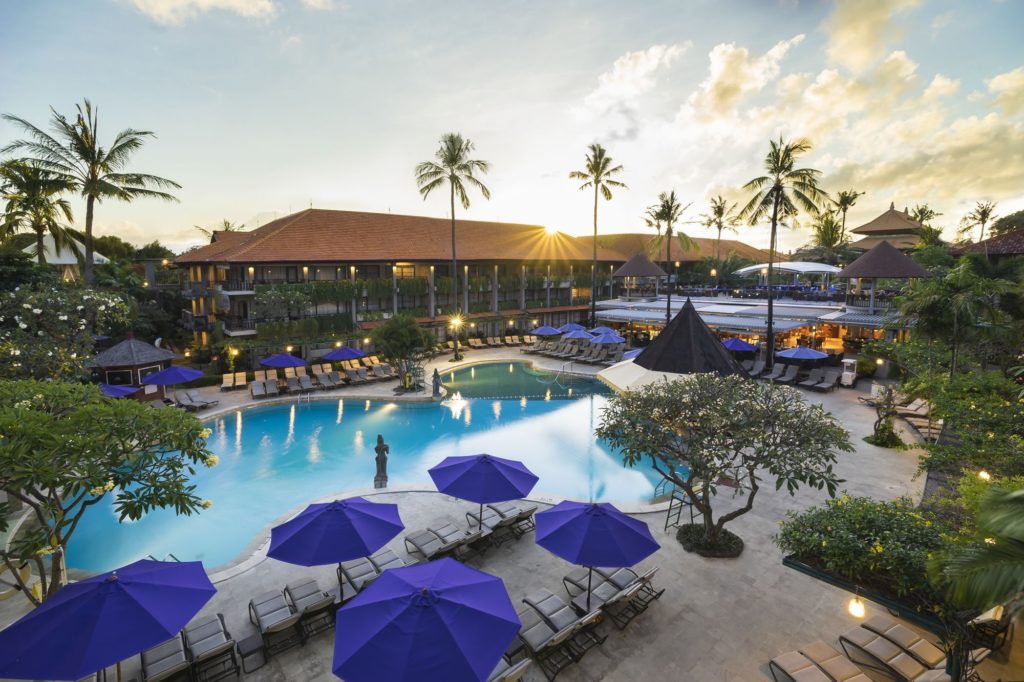 South Kuta's beachside gem, Bali Dynasty Resort has recently completed its renovations worth IDR 32 billion (USD 2.26 million) which includes a new street-front Irish pub, a new departure lounge and a brand new Family Lagoon Pool Access Room with direct access to a 109-metre lagoon. The property now offers re-designed rooms with plenty of facilities, located ten minutes from the airport and within walking distance of quaint restaurants and bars.
At the helm of the tropical getaway is GM Didit Indra Purnawarman, who in this exclusive interview, talks about the biggest changes at the hotel and how to (effectively) handle renovations.
TD: How do you feel right now with so many positive changes happening at the resort?
I'm feeling incredibly proud! We've initiated these upgrades to continually offer something fresh so that our guests want to return. Everything carried so far was determined by a comprehensive survey based on the needs and expectations of our guests. I'd say that all these new facilities fulfil what today's travellers want from a Bali holiday.
At the end of the day, these upgrades are a statement that we're ready to compete with new properties on the island, especially given that there is such strong competition from international brands.
"Refreshed and renewed"
The resort's extensive refurbishing is expected to total around IDR 32 billion this year alone — what would be the biggest changes at Bali Dynasty Resort?
The launch of our new street-front Gracie Kelly's Irish Pub in March 2019 and the recent opening of the Premier Lounge which caters to late departing guests.
There is also the creation of a 109m lagoon pool and 16 re-designed family rooms with direct pool access that will be ready to accommodate guests by mid-July 2019. To date, almost every part of the resort has been refreshed and renewed, making it the perfect home away from home for domestic and international travellers.
Which areas do you enjoy the most and why?
I'd say Gracie Kelly's Irish Pub and the Family Lagoon Pool Access Rooms.
Known as the first Irish Pub in Bali, relocating the Gracie Kelly's to a more visible street-front venue was certainly exciting. With its fresh new look showcasing classic Irish architecture, our bigger and better Gracie Kelly's now targets outside visitors as well as in-house guests. There are 187 seats spread over two different levels, and the pub offers daily entertainment and special promotions. I believe this venue will significantly contribute to our Food & Beverage revenue.
Meanwhile, our new accommodation type, the Family Lagoon Pool Access Room, will feature direct access to a 109m lagoon pool. None of the other hotels nearby can offer guests this type of experience. I'm confident that it will become one of our unique selling points that drives room revenue.
"A comprehensive design and strategy were put in place"
How did you handle renovations while daily operations were in progress? What were the challenges?
Timing and scheduling were both essential. The most obvious course of action was to carry out the renovations when occupancy levels were low so that it was much easier for us to allocate rooms away from the actual project site. Moreover, a comprehensive design and strategy were put in place well before we even embarked on any of the work.
We also installed smart-looking barriers and partitions, which did not detract from the overall aesthetic of the resort, to separate construction areas. Therefore, many guests didn't even notice on a visual level that work was being carried out.
Although there was barely any disruption to our daily operations, the major challenge was keeping construction noise to a minimum and ensuring that our guests did not feel inconvenienced in any way.
What advice would you give other GMs on handling major renovation projects?
Firstly, carry out any type of renovation project during the low season. Select a professional contractor, architect and a project consultant to ensure that the project is well executed and finished on time. It's also important that all materials are readily available on-site to prevent costly delays.
Before starting the project, finalise the design (civil, M&E and interior) to avoid changing plans halfway through. Apart from assuring the owner about ROI potential, having enough funds on hand and avoiding going over budget are crucial to the success of any project.