Hilton reinforces 'airport hotel' concept with two new openings
User role is=
Array
(
    [0] => editor
)

Hilton has announced two new flagship airport hotel openings, 60 years since Hilton first introduced the airport hotel concept in 1969.
Set in Europe's busiest airport, Hilton Garden Inn London Heathrow Terminal 2 features runway views and is the first and only hotel at Heathrow Airport to provide guests with direct access to the Queen's Terminal via a walkway, allowing them to reach departure gates in minutes.
Meanwhile, Hampton by Hilton Toulouse Airport, also now open, is conveniently located next to the passenger terminal at Toulouse-Blagnac Airport and just 20 minutes from the city centre.
Hilton Garden Inn London Heathrow Terminal 2
The Hilton Garden Inn London Heathrow Terminal 2 at Europe's busiest airport is the latest addition to the growing Hilton Garden Inn portfolio and opens following Hilton's 100th-anniversary last month.
The 14-floor property features 369 guest rooms, including 23 family rooms and 10 suites offering an adjoining seating area with a sofa bed and a 55-inch HDTV. Guests have access to numerous amenities and services, including complimentary Wi-Fi throughout, a 24-hour business centre, a state-of-the-art fitness centre, and The Shop – a 24-hour, grab-and-go retail space, offering a mix of healthy, indulgent and fresh foods and a self-serve specialty coffee bar. Additionally, for meetings and events professionals, the hotel has five high-tech meeting rooms, with the largest capacity for up to 65 people.
"Hilton pioneered the concept"
"More than 80 million people pass through Heathrow every year and we are delighted to offer guests a great accommodation option to make their travel journey that much smoother," said Simon Vincent, executive vice president and president, EMEA, Hilton. "Hilton pioneered the concept of the airport hotel back in 1959, so we are proud to be opening the doors to our second Hilton Garden Inn property at Heathrow as we celebrate our 100th Anniversary."
Hampton by Hilton Toulouse Airport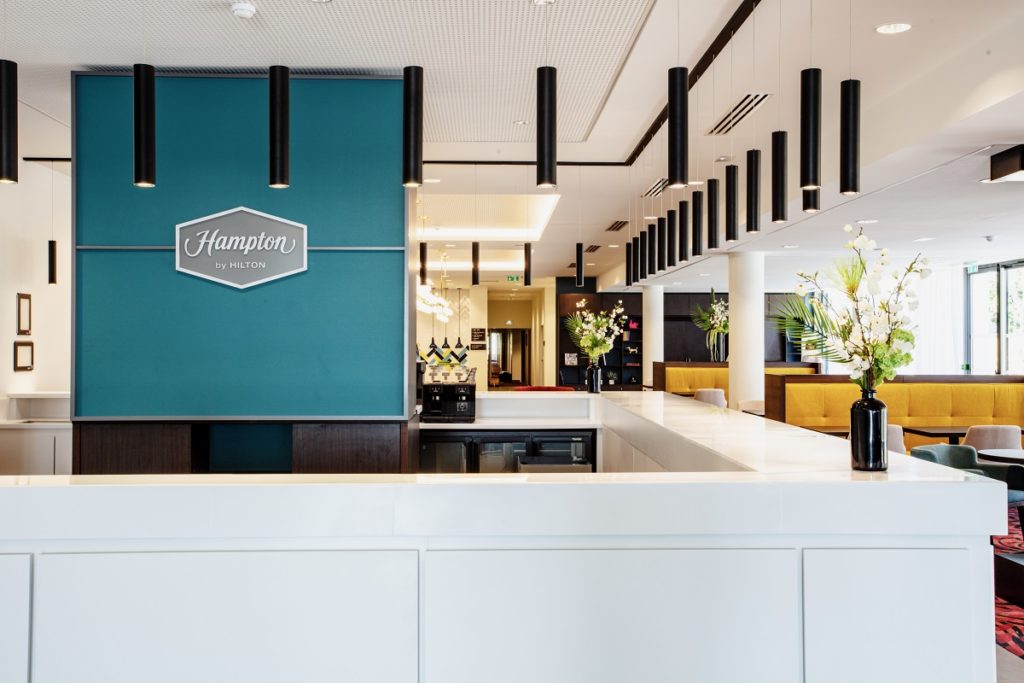 Hampton by Hilton Toulouse Airport has opened its doors in Toulouse, a city known to locals as La Ville Rose or "The Pink City" after the distinctive pink stone used to construct many of its buildings. The 126-room hotel joins Hampton by Hilton Paris Clichy, which opened earlier this year in France.
A short 20-minutes away from the city centre, Toulouse has a vibrant art scene that features many murals and street art throughout the town. Travellers can spend a cultural afternoon at Les Abattoirs, which was once the city's main slaughterhouse, but now an impressive gallery for exhibitions of modern and contemporary art. Bringing that sense of creativity to this hotel has been important, so much so, that Hampton by Hilton Toulouse Airport has commissioned graffiti artist Loïc Mondé to inject colour and energy throughout the property.
"We are set to almost double our number of hotels"
"Hampton by Hilton Toulouse Airport is a welcome addition to our growing portfolio in France, where we are set to almost double our number of hotels in the next three to five years," added Vincent. "With its two UNESCO heritage sites, glorious architecture and fine food, it is no surprise that tourism is increasing to the spectacular and varied city of Toulouse."
LATEST STORIES DEV