Japan is well-known for its extensive and incredibly efficient transportation network. It is renowned for its quirky line-up of fun, and creative themed trains.
Here are the top three must-try train lines around Japan from a food lover's dream on the Rail Kitchen Chikugo in Kyushu to gorgeous sightseeing along the Three Star Road to fine dining and sightseeing all in one of the Tohoku Emotion Train. These are something to look forward to when we can all travel again.
Rail Kitchen Chikugo, Kyushu
Food lovers visiting Fukuoka Prefecture should book their tickets for the Rail Kitchen Chikugo; a beautifully designed sightseeing train that celebrates both local cuisine and craftsmanship. Rail Kitchen Chikugo is effectively a mobile restaurant operated by the private railroad company Nishitetsu Railway, that runs along scenic rural routes on the Nishitetsu Tenjin Omuta Line and Daizafu Line. The train is named after the historic Chikugo Province that once covered the southern part of Fukuoka Prefecture. Loading the charms of the towns along the line aboard, the train aims to connect people to each other, to items and to experiences.
Running Times
Trains are operated mainly on Fridays, Saturdays, Sundays and during public holidays offering brunch, lunch and dinner menus. There is a 40-minute morning service, serving brunch, which runs between Nishitetsu Fukuoka (Tenjin) Station and Daizafu Station. The lunchtime service runs from Nishitetsu Fukuoka (Tenjin) Station to Omuta Station and the dinnertime service runs back from Omuta Station to Nishitetsu Fukuoka (Tenjin) Station. Both the lunch and dinnertime services take around two hours.
Option Route Ticket, Three Star Road
Spread across five cities and running through four prefectures, the Three Star Road cuts through the Japanese Alps boasting a wealth of tradition and culture as well as stunning wildlife and nature. The area is now easier than ever to explore with a special hop-on hop-off ticket option.  The ticket allows visitors to travel to national treasures and World Heritage Sites in Kanazawa, Shirakawa-go and Matsumoto such as Kenrokuen Garden, the historic village of Shirakawa-go, the old town of Takayama and Matsumoto Castle, which have all been awarded three stars by the Michelin Green Guide to Japan.
Ticket options are offered by JR EAST, and work well for a one-way trip from any one of the following stops; Kanazawa, Shini-Takaoka and Toyama, through to Matsumoto and, vice versa. This ticket is a great add-on to buy for those who are already travelling to Kanazawa or Nagano by Hokuriku Shinkansen. See below for the ticket route along with our guide on what not to miss along the way:
Toyama/Shin-Takaoka/Kanazawa→Shirakawa-go→Takayama→Hirayu→Matsumoto (or vice versa)
The following JR East ticket counters:
JR EAST Travel Service Center (Tokyo Station, Shinjuku Station, Shibuya Station, Ikebukuro Station, Ueno Station, Hamamatsucho Station, Tokyo Monorail Haneda Airport International Terminal Station, Narita Airport Terminal 1 Station and Narita Airport Terminal 2/3 Station)
JR Ticket Offices (Midori-no-madoguchi) of Narita Airport Terminal 1 Station, Narita Airport Terminal 2/3 Station and Matsumoto Station)
Travel Service Centre (View Plaza) of Nagano Station and Matsumoto Station
Note that this ticket is not valid for a round trip or for turning back halfway.
The Tohoku Emotion train, Tohoku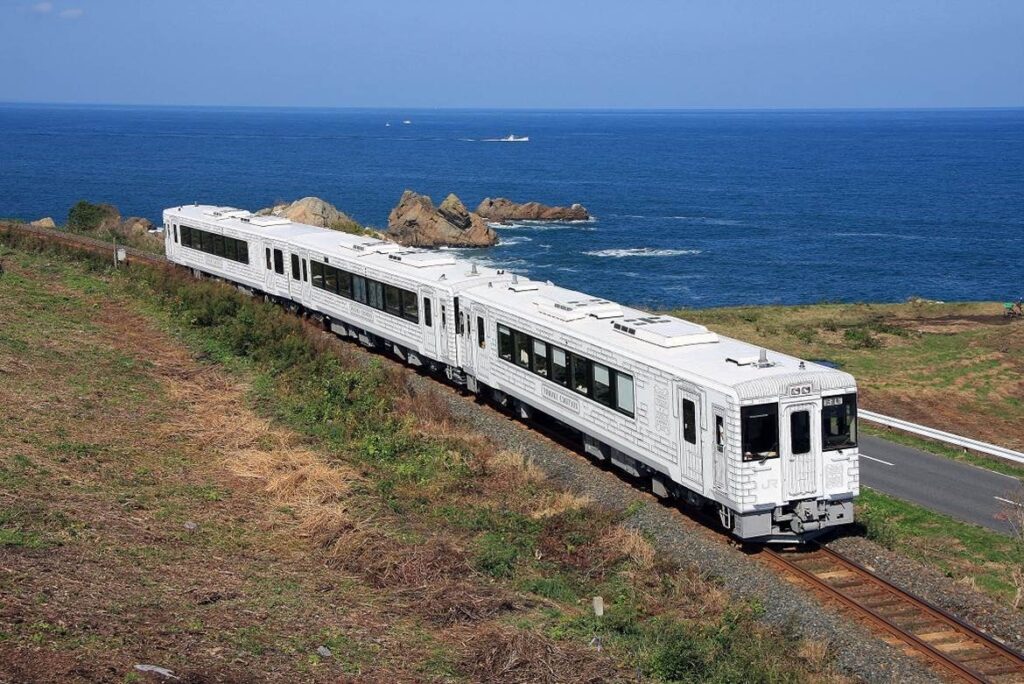 The Tohoku Emotion is a scenic fine-dining restaurant train, it started operating in October 2013. The Tohoku Emotion is a travelling restaurant that runs along the Sanriku Coast in the northern Tohoku region of Japan. It is one of East Japan Railway Company's (JR East) "Joyful Trains," a series of themed cars aimed at travel promotion of the country's less-visited prefectures.
The train boasts a plethora of attractions that include excellent design, art and panoramic views. Whilst on the train passengers will cruise between the towns of Hachinohe in Aomori Prefecture and Kuji in Iwate Prefecture, Tohoku Emotion offers a seasonal menu designed by celebrity chefs of Japan. An abundance of delicious produce comes from the Tohoku region including; the sea urchin, beef, mountain grapes, shiitake mushrooms and much more. A new chef takes over the train every six months and the menu is updated twice during his or her half-a-year tenure.
A feature of the Tohoku Emotion includes an open kitchen where guests can watch their food being prepared while they wait. Passengers enjoy a four-course lunch, crafted from plentiful local Tohoku ingredients, while travelling from Hachinohe to Kuji, sightsee for about 1.5 hours in Kuji and then dive into a dessert buffet designed by Takashi Kumagai of Hotel Metropolitan Morioka on the ride back from Kuji to Hachinohe. At each of the scenic spots along the route, the train slows down, giving passengers a chance to enjoy the views and take photos while enjoying their meals.
Tickets are available to buy at JR EAST Travel Service Centres at Tokyo, Shinjuku and other stations, as well as at your nearby Travel Service Centres.